This month instead of our "Meet the Contrado Artists" post following its usual format, we decided to take it a little more literally for a change. So this time Contrado really did meet the artist, and that artist was Lois O'Hara. We spent a whole day together and did some truly amazing things. Check out our video, and see what we got up to!
Not only did Lois paint one of our studio walls for us – and expertly so, even if we do say so ourselves – but she then turned that work into a fantastic cushion cover, a beautiful beanbag and more! (as you can see in our video!)
We caught up with Lois after her busy day in North West London and learned all about her inspirations, her roots, and her future plans, and she was happy to indulge our inquisitive nature.
An interview with an artist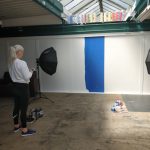 Contrado: How long have you been designing? How did you start?
Lois: I started designing things at University and it was at the end of my third year when I really found my niche.
Contrado: Do you feel you have a distinct style? How would you describe it? How has your style changed over the years?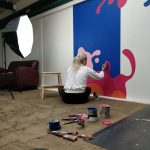 Lois: I would describe my style as fluid, positive and "wavy". My work has started to get a lot bolder in terms of colour palette and line strength. My lines have gotten stronger and my colours are more vibrant than ever. I feel that both things are important aspects of my creative practice to deliver the positive messages that I try to express.
Contrado: Is there any artistic talent in your family?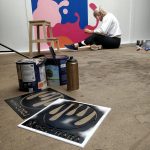 Lois: My grandad was an amazing painter!
Contrado: When you're not creating beautiful designs, what do you enjoy doing?
Lois: I'm pretty much always hustling but I do enjoy a drink here and there!
Contrado: What inspires you in everyday life?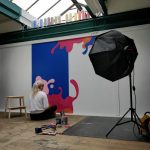 Lois: I am inspired by my past and intrigued with how other people lead their lives. The sea inspires me, as well as music too. I like to capture the fluidity and movement of these things – like I am stopping time.
Contrado: Who do you aim your designs at? What sort of person do you think will love your products?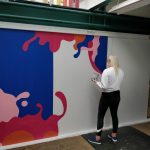 Lois: Adults who do not want to grow up!
Contrado: What is your favourite piece in your collection?
Lois: My 70 x 50cm screenprint which was printed at Jealous Studios and was on exhibition at The Saatchi Gallery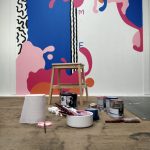 Contrado: Talk us through your thought/creation process.
Lois: The first thing I always do is decide on the colour palette and then I begin by making shapes and patterns which fit to the brief. With my murals, I paint everything freehand. This is important, as my work is so curvy and sea-inspired.
Inspirations
Contrado: Which artist/designer is most influential to your work?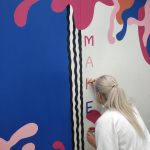 Lois: Camille Walala
Contrado: What's your favourite brain food for creating work?
Lois: Burritos!
Contrado: Why have you put your designs on the products you've chosen?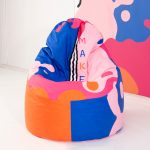 Lois: Beachwear and Homeware – my two favourite places!
Contrado: What are your plans for 2019?
Lois: I already have about six projects confirmed so it will a very important year for me 🙂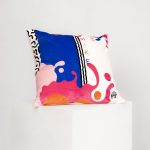 Contrado: If you could give one piece of advice to your younger self, when you were just getting started what would it be?
Lois: Don't post everything on Instagram, or your website. Be selective so that you don't have to go back and delete everything when you get better!
Thanks!
We would like to say a huuuuuuge thank you to Lois, for coming in and talking to us, and for how awesome our studio wall looks! If you fancy becoming a #ContradoCreative and turning your work into great products, get in touch using this webform!