Gaining exposure for your art or design work can be incredibly difficult, particularly in such an over-saturated market. As well as having a strong online presence, attending live art events such as exhibitions or fairs will help open your work to a new audience and bring further exposure. We've compiled a list of the biggest and best open call art events in 2018, to help you grow your brand and ultimately win some of those all-important sales.
Art and craft markets and fairs are incredibly varied, so it's important to do thorough research to find ones that might suit your niche. Certain markets are more suited to illustrators for example, whereas some are for the ceramicists amongst you. It's also important to think about the audience for each market – is it the type of market that will attract visitors who'd buy your work? Will the footfall be high? Is it likely to attract young people, older people or families? Consider your target customers, and be selective in your choices. This will help you thrive in the markets you choose to do, and ensure you aren't overworked for all the wrong reasons.
Markets
Craft or art markets generally look for any handmade, creative items, alongside smaller originals and prints, and are often only temporary one or two day long events. Visit a few markets over the busy Christmas or Summer season to get an idea of which ones may suit your work best.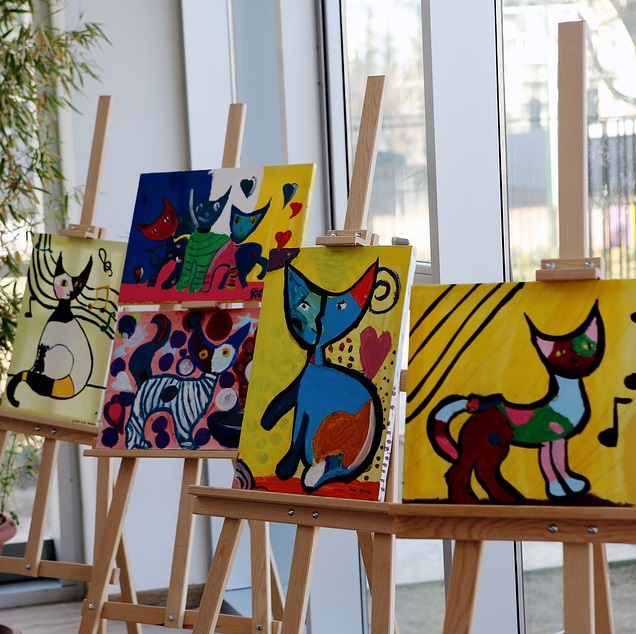 DIY Art Market – Monthly, London & Brighton
Although the folks behind DIY Art Market also have a dedicated ceramics market, this one is open to all artists. Taking place in a number of locations around the UK throughout 2018, exhibitors will have a small stall for the day over a dedicated weekend, so it's ideally suited to artists who produce smaller items such as prints, notebooks, bags or other handmade products. However, any type of artwork is welcomed if it fits into the space and suits the contemporary setting.
Crafty Fox Market – Seasonal, London
Probably one of the best-known markets around London, Crafty Fox specialises in showcasing independent designers and makers at a variety of locations around the city. With everything from handmade jewellery to screen prints, it's ideal if your work is again, on a slightly smaller scale. Crafty Fox hosts temporary day and evening markets sporadically throughout the year, generally in Summer and over Christmas.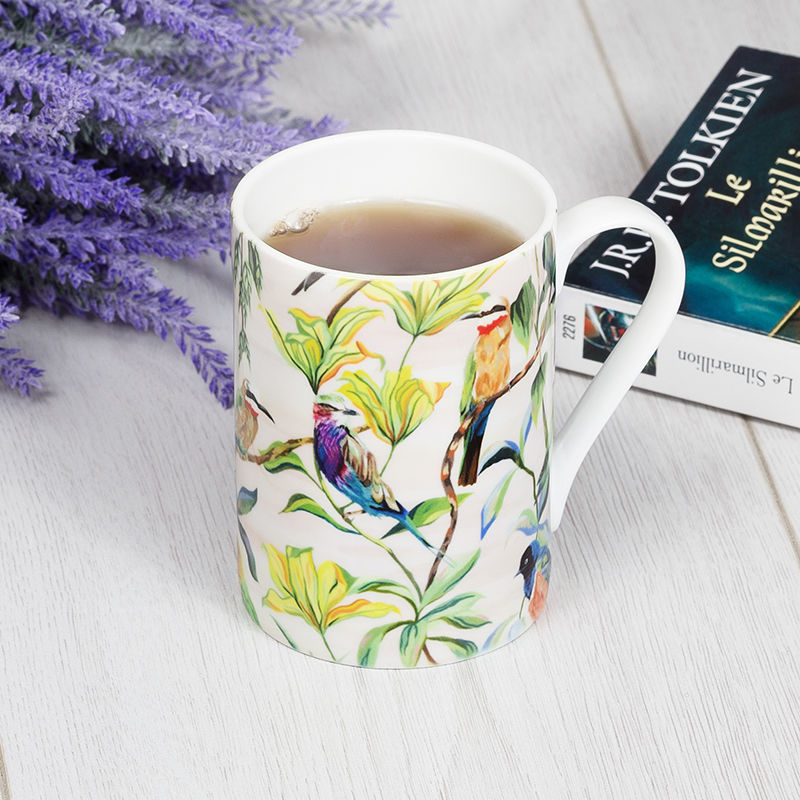 The London/Bristol Artisan – Seasonal, London & Bristol
The London Artisan is a curated marketplace in East London, bringing 50 contemporary designers to the Truman Brewery for a 2-day shopping event a number of times throughout the year. Spaces are slightly bigger here and you can request wall space, so it's a great market if you want to share a range of products such as larger prints or originals as well as smaller pieces. The space is well-known and used for other events inbetween the markets, so has a good following. Recently, the organisers launched The Bristol Artisan, bringing the same high-quality art markets to the Royal West Academy in Bristol.
Art Fairs
Art fairs are usually attended by galleries who represent their artists, but don't lose hope if you don't have a gallery backing you. These art fairs are open to any and all creatives, celebrating individuals for their work and not their representation. Generally, art fairs are held as a pop up for a couple of days in a well-known events venue, where visitors can come and peruse your work.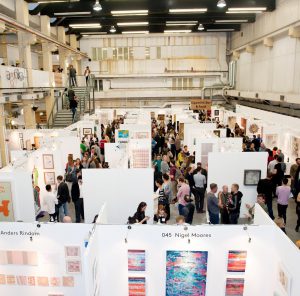 The Other Art Fair – Various Locations & Dates
The Other Art Fair takes centre stage as one of the worlds biggest art fairs. With exhibitions everywhere from Los Angeles to Melbourne, it's ideally suited to contemporary artists who want to gain exposure to galleries and art collectors. The emerging artists generally include painters, photographers, new media artists and sculptors working on larger scales. These fairs are temporary pop ups for two days, and change location each year. The London fair is held in March, whilst the Bristol fair usually takes place in the Summer.
New Artist Fair – September 2018, Truman Brewery London
This artist-run organisation showcases work by both emerging and recently established artists from around the world. There is no fee to apply and the fair aims to promote artists who aren't currently represented by galleries, but are willing to sell works for between £50-£2000. The fair takes place in early September each year, in the Truman Brewery in London.
London Illustration Fair – December 2018, Bargehouse London
The London illustration fair champions the most creative and exciting illustrators, galleries, collectives and start ups making an impact on the art scene today. Illustrators are invited to sell their goods as well as get creative and meet people from the same industry. The event is now held annually over a weekend at the Bargehouse, a unique exhibition venue on London's Southbank, but bear in mind there is a small fee of £8 to enter.
Exhibitions
If you browse the web, you're bound to find art gallery open calls available almost constantly. But which ones do you apply to? Consider the location, costs and the type of people who may visit that gallery. Do you want to appeal to local customers, or art collectors? These are a few exhibitions that celebrate work of all types.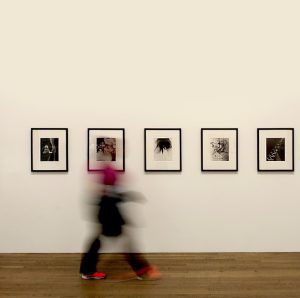 Brick Lane Gallery
This gallery in the heart of East London always welcomes submissions from artists continuously throughout the year, and hosts a range of varied exhibitions. Check their upcoming exhibition themes regularly to see if your work suits, or you can always apply for a solo show. This brick and mortar gallery is best suited to photographers, printmakers or painters, with room for larger works.
Royal Academy Summer Exhibition
Held since 1769, the Royal Academy Summer Exhibition is one of the most well known open call exhibitions in the world. Displaying work in a variety of mediums by both emerging and established artists, this show welcomes work of all media. The RA Summer Exhibition can be difficult to get into, but don't let that discourage you from applying – it takes some artists over 10 years to get in!
Saatchi Screen
If you've always dreamt of being in the Saatchi but don't create room-sized installations or large-scale paintings, then showing your work digitally could be for you. The hi-res screen on the second floor of the Saatchi Gallery rotates artworks with your name, city, artwork size and medium, and your work will remain in the loop while the screen is up. Apply via their website to share your artwork with the masses.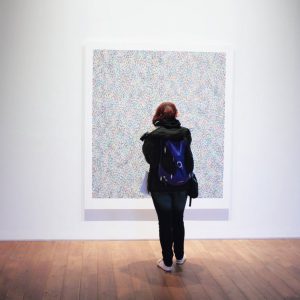 Pop-up Shops and Shelf Space
Applying to a pop up shop or to rent shelf space in a shop can be an effective way of marketing your work to a new audience. Particularly useful for clothing or smaller accessories, these are a few locations which can help enhance your brand and bring in a new crowd.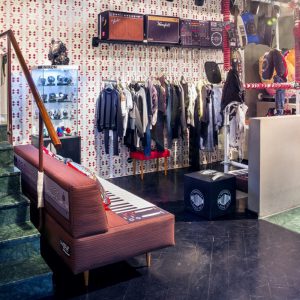 Urban Makers East
A makers collective run by two women, Urban Makers East regularly has a temporary residency at Fount London, as well as hosting pop ups at other locations throughout the year. Exhibitors get a designated space in the shop to showcase artwork, but it is more suited to homeware, accessories and clothing rather than large originals. Check their website for upcoming locations and dates.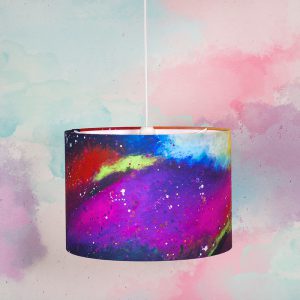 Concept Store Y
Tucked away on Brewer Street in London since 2014, this now permanent clothing, accessories and homeware shop features a range of independent and emerging designers. You can apply to rent shelf space amongst the designer line up, showcasing your unique work alongside talented creatives. This designer store is best suited for artwork printed on clothing and small accessories.
Lik + Neon
Just off of Brick Lane is this permanent, eye-catching neon orange artist store, with prints, gifts, originals and clothing from a unique range of creatives. Choose to rent some of the wall space, a shelf or a rail to get your work known in East London. Regularly frequented by tourists and shoppers of the Brick Lane market, the style of Lik + Neon is perfect for illustrators and printmakers. Attitude Creatives' illustrated clothing would fit in particularly well here.
Art Prizes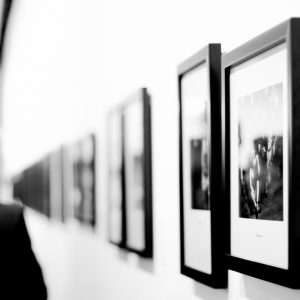 Not only will art prizes gain you that exposure you're after, but they often come with valuable prizes – and we're not just talking about the cash. Winners will also receive help and guidance from established artists with the aim of furthering their careers. Even if you don't win, having your work shortlisted will mean it's featured online and potentially in a gallery too. Art prizes are usually held once a year, with most submissions taking place online.
BP Portrait Award
An open call exhibition for portrait painters at the National Portrait Gallery.
Jerwood Drawing & Painting Prizes
The country's leading prizes for painting and drawing artists.
New Contemporaries
One for up-and-coming talent, selecting young artists who are studying or recently graduated, with the aim of helping them further their careers.
Threadneedle Prize
Run by the Mall Galleries, this prize celebrates both representative and figurative art.
Understanding how best to display your designs or artwork is a large part of choosing which exhibition, market or fair might be right for you. Experiment with showcasing your work on a variety of products to explore the best way to market and sell your designs.