Custom Wallpaper Printing
VAT included
See how our pricing works
Three paper types to choose
Available in any size
Full colour high quality ink
Easy and quick to hang
Sample swatch available
Solvent free low odour print
Quick worldwide delivery
Sustainably made in the UK
Ships in 1 - 2 days
.
UK delivery from £5.99
Delivery options
We also offer
Wholesale and student discount from no minimum to bulk orders
View discounts
Need more help? Check out our wallpaper calculator to find out how many rolls you'll need.
Product Description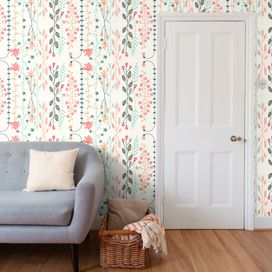 Make your home exactly as you want it by designing your own custom wallpaper printing. Make your own wallpaper and choose from three stunning papers: our classic standard paper as well as self-adhesive or luxurious premium. Order a sample first to preview the stunning print quality for just £3.00 . All the prints are depicted clearly, with crisp outlines and definitions that will stand out on any wall. Available in custom dimensions, turn your walls into something spectacular and design custom wallpaper for every room in your home. Perfect for artists, designers, and those with a distinct taste, this wallpaper will show off your personal style while bringing a whole new bespoke element to your home.
Care instructions
Surface wipe only. Clean gently by hand with mild soapy damp cloth.
How it works
Upload your design
We automatically apply your design to the product you selected
Make it perfect
Use our smart tools to get it exactly right and select the finishing options
Preview & checkout
Confirm your designs with our 3D previews and checkout with confidence
1-2 Days Production
Sit back and relax. Your product is on its way!
How our pricing works
Our pricing is based on the quantity and dimensions of the products you order. The more you order, the better price you'll get. We also offer lower pricing for larger dimensions, students, and wholesalers.
We offer discounts
We offer discounts on all our products, including bulk, quantity and student discounts. Enjoy great deals whether you're a small business, designer, or student.
Volume discount
Wholesale
Students
Based on Quantity
Up to 44%
Up to 20%

Discounts

Discount available. Price by selecting dimensions & quantity.

Find out more
Find out more
Custom Wallpaper Printing
VAT included
See how our pricing works
Three paper types to choose
Available in any size
Full colour high quality ink
Easy and quick to hang
Sample swatch available
Solvent free low odour print
Quick worldwide delivery
Sustainably made in the UK
Ships in 1 - 2 days
.
UK delivery from £5.99
Delivery options
We also offer
Wholesale and student discount from no minimum to bulk orders
View discounts
Need more help? Check out our wallpaper calculator to find out how many rolls you'll need.
Help
More details
About Custom Wallpaper Printing
We offer a 10-year guarantee on your custom wallpaper, and you can choose the best fit for your wall or customise the dimensions. When you make your own wallpaper, you can choose between three different papers and order a 62 x 30 cm wallpaper sample to preview the different finishes. Our standard custom-printed wallpaper is strong and durable with a beautiful textured matte finish. The luxurious premium option has the same strength and durability, with a similar finish, while being 100% opaque. It is also pre-coated with adhesive. The wall simply needs to be sprayed and the wallpaper positioned. There is no need for wallpaper paste. The self-adhesive paper uses an amazing peel and stick application method and can be repositioned multiple times. All three custom-made wallpaper types are of stunning print quality, with the premium option offering super-sharp printing.
At a glance
Photo Wallpaper or Repeat Pattern Wallpaper
Handmade to order
Three paper choices
Eco-friendly, matte wallpaper
Optional wallpaper sample
Easy and quick to hang
Wallpaper size
Custom dimensions - any size you want
Roll width: 62 cm
How Your Custom Printed Wallpaper is Made
There are three printed wallpaper options: standard, premium, as well as a self-adhesive option. They are all high-quality, beautiful wallpapers but offer slightly different attributes, which you can preview in our wallpaper samples. Please note that there may be some ink bleed on wallpapers with a textured finish.
Standard: Your designs are printed onto chic, thick paper that has a beautiful textured matte finish. This paper has very good print quality and offers a long-lasting print. Your custom wallpaper printing has a 10-year guarantee for colour fastness when the paper is kept in an optimal position, i.e. away from direct sunlight. It is strong and durable and holds up well to scratches and abrasions. This makes it an ideal wallpaper to use in high traffic areas. As sustainability is one of our main objectives, your paper is eco-friendly, and we use no solvents and only water-based inks. If you are planning on hanging your paper on a dark wall, we recommend using lining paper before applying your wallpaper.

Premium: Opt for our premium wallpaper if you are looking for a 100% opaque option. This stunning paper is water activated and pre-coated with adhesive. All you need to do to hang it is spray the wall and position your paper - there is no need to add any paste. With a matte finish and a gorgeous lightly textured handle, this paper offers a vibrant print of the highest quality, with super sharp print detail. The print is guaranteed for 10 years. It also offers the same benefits as the standard in regard to its finish; tough, durable and scratch-resistant. The certified ECO-print is odour free, and the water-based inks offer a sustainable alternative to mass-manufactured wallpapers.

Self-Adhesive: Removeable and adhesive, this paper can be mounted onto any surface. It retains its adhesive properties so that it can be repositioned countless times. It also won't leave a residue when you remove it from the surface that it is stuck to. A unique coating that dries quickly and is water-resistance as well as unique opaque properties which removes and translucency. Suitable for indoor or outdoor use. Simply peel and stick to apply.
Design Tips
The first thing to do is decide between photo or montage wallpaper and repeat pattern wallpaper, which you can test in our high-quality wallpaper samples. The photo or montage option is best if you plan to create the wallpaper with one design that stretches across the whole space, a landscape or mandala, for example. The repeat pattern wallpaper will enable you to create a pattern from one piece of art that will be tiled across the wallpaper. Upload one design, and it will automatically be turned into a pattern, which you can change the size and layout of. With repeat design wallpaper, you can design an incredible maximalist feature wall to reflect your unique tastes. Another perk when you print your own wallpaper in a bold repeat pattern is that it injects strong character into any interior design.

There are so many ways to make custom wallpaper work for your home. Begin by entering the dimensions of the wallpaper you want to print. Consider whether you want to print your own wallpaper for an entire room, along a hallway or above your picture rails. Not only will it have a dramatic effect, but it can actually make a small space appear bigger. You can even create your own wallpaper to make a feature of awkward attic walls.

Please note: When entering the dimensions, you would like your wallpaper to be, we recommend adding additional space to allow for shrinkage. Our heat printing process can cause up to 2.5% shrinkage on custom wallpapers and fabrics.

Upload your design and play around until you are happy with it. You might notice a "low quality" warning appear. This is an indication that your image might need to be scaled down to improve print quality. You could always use our design features, such as the tile effect. This will allow you to reduce the size of your image while applying a contemporary repeat "tiling" effect.

Our skilled artwork team will quality check your designs before printing for any obvious errors once your order has been placed. If this is the case, you will be notified so changes can be made.
How does this product enhance my...
Home
Ideal for anyone looking to add some personal style to their home decor, your new wallpaper will showcase your taste in a standout way. If you are looking to decorate a new baby's room, bypass the generic, babyish wallpaper seen in every shop and design your own wallpaper! Include their name, a meaningful quote, illustrations, song lyrics, photographs, or anything else that you want. This wallpaper is perfect for creating a feature wall, or even for every wall in the room.
Business
Making your business stand out can be tricky. Bespoke wallpaper is a wonderful way to demonstrate to customers your company's branding and ethos. We love seeing personalised wallpaper in restaurants and cafes, as it truly helps set a standard of style and helps build a memorable experience for the customer. With your original art, you can create your own wallpaper to set the mood and atmosphere that your restaurant projects; romantic, fun, contemporary, traditional, the choice is yours.
Design Brand
More and more talented artists and designers are incorporating their stunning designs into the home interior world. Interior design and art truly go hand in hand, and designing your own wallpaper is an innovative and memorable way to push your art into this popular area. Attract new customers and clients and make your own wallpaper with your original artwork. Create a series or a signature print that will appeal to your clientele and beyond.
Print guidelines & finishing
Print Guideline
What's the best resolution to print in?

We print at 200dpi, which is a good combination of quality and file weight. Ideally, your image should be scaled to 100% at 200dpi, this means that no resizing of your file occurs stopping any interpolation.

Should I save my file as a TIFF or JPEG?

For multi-coloured or very detailed files we recommend using a tiff format, but they must be flattened. For simple colours and low detail files, a jpeg is fine.

Which colour model should I choose? RGB or CMYK?

We advise providing images in the RGB colour space. Specifically using the sRGB image profile, to achieve best colour results. What does this mean? In your editing software choose RGB as the working space, and assign the image profile as sRGB (full name sRGB IEC61966-2.1)

What does GSM mean?

Grams per Square Meter (GSM) is an international standard for measuring the weight of paper or fabric. GSM uses the weight of a square meter (1000 x 1000mm) as an indication of the weight and thickness of a given fabric. We class 20-100gsm as light (summer fabrics, gauzes and fine silks), 101-249 gsm as medium (most clothing fabrics) and 250+ gsm as heavy (upholstery fabrics, and other specialist fabrics).

What are the bleed areas?

When designing your product, it's best to make sure that your image is slightly larger than needed. In printing, the extra printed image is referred to as a "Bleed Area" or margin, and it is removed from the finished piece. A bleed area acts as a buffer for slight inconsistencies in the manufacturing process. however, it's important to fill your bleed areas completely, or you may end up with white, unprinted strips along the edge of your finished product.
Do you print on garments a customer supplies?

Unfortunately not. All our garments are printed on flat fabric and sewn into finished products, which gives a better, finished result and all-over print. We test meticulously so that we know what gets the best results on our fabrics, and our facilities cater perfectly to them. We do however print sublimation paper to order, so if you have access to a heat press you can press your fabrics or flat garments easily.

Can you Align a Pattern or design across panels of a garment?

We always strive for the greatest accuracy when printing and constructing your garments. However, due to unavoidable stretch or movement of the fabric during the stitching process, we cannot guarantee perfect pattern registration across garment seams. We are generally accurate within 2-3mm, which Is close enough for most patterns but may show slight issues with detailed geometric patterns.

Can I print my own Labels?

Most of our garments now come with printable label space for you to add your own company information and branding! If you would like to sew in your own labels, we also offer Printed Fabric Labels here.

How is your fabric printing eco-friendly?

With environmental consciousness in mind, our fabrics are all printed using completely water-based inks. This means no chemicals or solvents are used. Our heat fixing procedure fixes the colours and prints, avoiding the downsides of steaming, such as excess or contaminated water returning into the waste system. We have one facility in London where we conduct all the printing, production and fulfillment.
Please note: As everything we provide is handmade to order, all measurements may vary slightly.
FAQ
Can I print bespoke wallpaper in any dimensions?
Our online design interface and expert print technology allow you to print wallpaper of any size. Simply enter your chosen dimensions into the interface, and you will see an instant price on the page. This is ideal for very small or large walls, where you might require a limited or excessive amount of paper. We also provide high-quality 62 x 30 cm wallpaper samples.
What paper choices are there?
When you make your own wallpaper, you can choose from three different paper types. They all use water-based inks and are odour free. The standard is textured matte, durable paper. The premium is water activated and lightly textured. It is pre-coated with adhesive, so there's no need to use paste, and the textured ones are breathable and resist mould and mildew. The self-adhesive uses a unique peel and stick application method.
Can I use printed wallpaper for a feature wall?
Absolutely you can. Feature walls are one of the main benefits of bespoke wallpaper. You can print any size wallpaper that you wish, so a feature wall is a great idea. You will need to scale up your designs and measure your wall carefully to ensure the paper fits to size. Create a feature wall by using one design on our Photo or Montage Wallpaper or by creating Repeat Pattern Wallpaper.