Whether you're creating a belt, bag or jacket, leather is the best option that looks great and never goes out of style. Leather is a wonderful choice for any crafter due to its versatility. Whether you're a seasoned seamstress or just starting out. Some leathers, like suede, are light, thin and flexible, whereas thicker materials like belt leather are hefty, stiff and strong.
As leather is a natural product, it can have a textured surface, veins or pockmarks that add to its charm. But they also differentiate it from fabric and make it a unique material to work with. If you're looking to use leather for your next masterpiece, the most useful place to start is by finding the best sewing machine for leather.
Traits of the Best Sewing Machine for Leather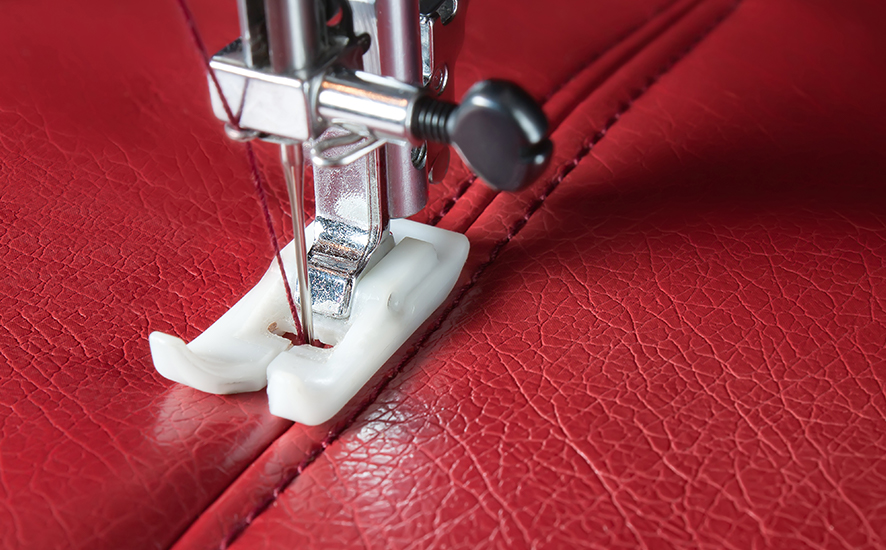 The best sewing machine for leather is completely subjective to your experience level. However there are some general things to look out for regardless of your skill:
Heavy-duty: Always choose a heavy-duty machine that will help the leather to move through, particularly when you're working on larger projects.
Industrial: Either a flatbed machine or a cylinder arm machine work best for sewing leather.
Some machines are better than others for sewing with leather. If you're just starting out, a domestic sewing machine with a leather piercing needle will do the job. If you're looking to use leather more frequently, an industrial flatbed Juki or Brother machine is a great fit. Looking to become a professional leather worker? Look for a Durkapp Adler or Pfaff machine for the best sewing machine for leather experts. Aim to buy one second-hand, as the cost for these are both in the thousands.
Look Out for the Details
As well as being the right type of machine, it should also have:
Appropriate presser feet: If you have the right presser feet, it will make it much easier to work with the leather. You'll need a Teflon foot in you're working with a flatbed machine. Experts use a walking foot when sewing with leather, as you'll see on a Durkapp Adler or Pfaff. A higher presser foot lift will also mean you can fit several layers of leather under it.
Quality thread: Bonded nylon thread is great for just starting out. If you're looking for a more professional thread, opt for either a cotton or cotton-poly blend serafil thread.
Leather needles: You'll need a leather-piercing thread to sew leather. Our favourite is a diamond point needle for the smoothest stitching. Whatever needle you use, make sure it's suitable for the type of leather you're sewing. Different materials require different needles.
How to choose the best sewing machine for leather
Taking the above into account, it's important to be selective when choosing the best sewing machine for leather. An industrial flatbed sewing machine is the best option for leather, particularly if you use it on a regular basis. However, a heavy-duty domestic sewing machine can work just as well for lighter leathers with the right needle and foot. They are durable and powerful without being too bulky or expensive.
Additional tips when working with leather
Leather can be a variety of thicknesses, from 0.3 mm snake leather to 7 mm Bridle hide. So it's important to use the right tools for the type of leather you're sewing. If leather is pierced, it can leave a permanent hole in the material, so be careful when stitching. Here are a few handy tips that you might find useful:
Try out machines/techniques on a small scrap piece of leather to begin with. This will introduce you to the type of leather and the best technique for sewing it.
Double check your measuring to ensure you have the right size pieces before sewing.
Always use longer stitches, as smaller ones could damage the leather.
Don't use pins to hold your material together as this will puncture it. Double-sided tape is the best option, but paperclips work too.
Be careful with using the correct thread tension and always test this on scrap material before beginning your project.
A leather marking pen or chalk is a good investment so that you don't leave marks on it.
Always work at a slower pace. Particularly when you're starting out, make sure you don't make mistakes and get used to the feel of it.
After you have finished, hammer the seams using a regular metal hammer or rubber mallet. This ensures they are set, for a great finishing touch.
With the correct tools, you should have no problem working with leather. With a heavy-duty sewing machine, leather-piercing needles and a longer stitch, you'll be sewing like a pro in no time. Also, never underestimate the importance of taking your time. There's no rush to get everything right at first.
Sewing Leather with a Unique Touch
And once you've selected your best sewing machine for leather, all you need is some leather to sew! If you're bored of regular tanned leather, why not print your own design to create a bag, belt, or other craft that's completely unique? At Contrado, we have a wide range of leathers in various thicknesses to print on including Nappa, Double Butt, French Calf, recycled leather board, vegan leather, Suede and more. Check out our full range below!