It's no secret that showcasing your work in an exhibition can be a little bit daunting. Whilst exhibiting your pieces definitely opens up your art to a wider audience including collectors and potential buyers, there's always the lingering worry of negative feedback. But it's a risk worth taking; for emerging and established artists alike, the exposure is vital and is an important point of growth in your artistic development. Whilst taking the steps below towards your next exhibition, it's important to consider the context of your show. Is it being hosted by a private gallery? If so, they're likely to take more of an active step in preparing the show – they'll curate your work for you, prepare catalogues and press releases, and arrange a private view. If you're preparing a solo or group exhibition independently, there's much more to consider. You'll need to scout a location, settle on a time and date, curate your work and do all the marketing and press for the event. Follow our exhibition planning guide to understand how to organise an art exhibition, and showcase your work to the best of your abilities.
Preparation is Key
Location
If you're lucky enough to have been picked up by various galleries, it's still just as important to pick and choose your locations, as it is when planning your own exhibition. Certain venues will expose your work to different types of people; it's important to think about what of audience the location will attract. Do working professionals frequent the area? Other artists? Collectors? Students? Think about whom you're trying to reach to get more of an understanding of the outreach, and research previous artists who have exhibited in similar venues.
Choosing Artwork
When you're thinking about how to organise an art exhibition, the first thing that springs to mind is the artwork,. Wherever you're showing your work, you'll still have a large say in the pieces you exhibit. Select art that shows a spectrum of your skills and capabilities; a range of pieces, which reflect your journey as an artist, as well as the works you're most proud of. Try and pick pieces that could compliment each other in terms of colour, style or medium to tie the group of works together. Think about the gallery space and how visitors are likely to travel around it, and how you can use this to control the order in which the works are seen to design a narrative.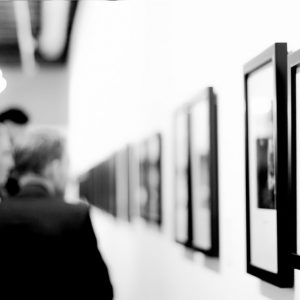 Make Your Art Exhibition Ready
Make sure to give your artwork some finishing touches to prepare it for the big day. If necessary, tidy up the edges of paintings and make sure the canvas hasn't sagged in places. Think about how you plan to hang pieces – do they look best with or without a frame? What colour mounts will compliment the artwork? Will they need mirror plates to secure them? Will they be hung directly on the wall, or by a type of clip? All of these considerations make a huge difference in the quality of your work, and in turn can greatly enhance them. Originals or limited edition prints may need a certificate of authenticity; make sure you have this planned and ready to go, in case there is any interest on the opening night.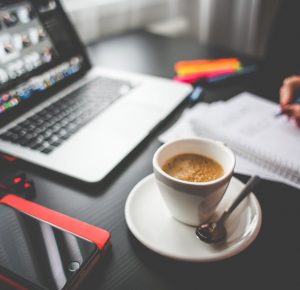 Transporting Your Work
Getting your work to the gallery safely is something you definitely don't want to skimp on. If your works are big enough to need a van to get them to the exhibition, then ensure they're packed carefully with necessary padding and outer protection like crates or boxes. If you can bring your works yourself it's still imperative to package them correctly, but you will have slightly more control over their journey.
Sell Yourself
Prepare Your Catalogue
You're not just selling your artwork at the exhibition, but you're selling yourself as an artist; as a brand. It's imperative to have an artist statement and CV prepared well in advance, preferably available via your website or a mailing list. If you're represented by a gallery they'll publish this in their catalogue, otherwise it's down to you to handle it.  You'll want a concise artists biography and statement alongside a professional portrait photo, and high-quality images of the works you're showing along with their titles, dates, mediums and prices.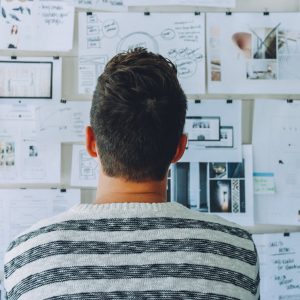 Marketing
Marketing your own show can be daunting, but if you're well prepared it should be a breeze. Have an option on your website for visitors to sign up to your mailing list months in advance, so when it gets nearer the time you can begin advertising via email. It's also worth contacting other local galleries, artist blogs, and professional arts organisations that may offer free or paid advertising opportunities to their clients. Don't forget to make use of social media! Instagram, Facebook and Twitter are vital tools in spreading the word about your exhibition and your art. Give your followers a reason to show up; share with them an exclusive special offer, such as a free miniature print to the first 20 visitors of your show.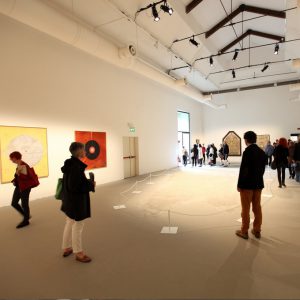 The most important thing to remember when preparing for your show is to be confident. Have faith in yourself and your artworks, and remember you're there for a reason. There may be criticism or less-than-favourable feedback from certain people, but if so, you can use this as a tool to grow and develop yourself in the future. Overall, be positive, network, and use the opportunity to showcase yourself to the art world.