Picture this: You're an artist; an expert at your craft. You've put hours into improving your skills. Now you discovered print-on-demand companies and realised you can make a profit off your passion. You start your research, but you're not sure where to land.
You may have heard of Zazzle, which is a common choice for designers who are just starting out. The platform attracts both artists and non-designers with their ready-made templates, icons, and filters. It's great if you've no idea where to start with designing, but what if you've already got the vision and you're ready to start?
In this blog post, we compare Zazzle and Contrado to find out when it's time to upgrade your business to give you full freedom over your products.
What is Zazzle?
In short, Zazzle is a print-on-demand (POD) company which allows designers to sign up and add their designs to a range of products and sell them in their Zazzle store. When you click into the Zazzle homepage, you'll see three tabs: Create, Marketplace and LIVE.
Create allows you to explore Zazzle's range of customisable products. You'll find an emphasis on their free icons, shapes, backgrounds, and design templates. Another cool function is that you can collaborate with friends during the design process to bring your designs together for the ultimate product range.
The Zazzle Marketplace showcases products which have already been created by Zazzle designers – so it's the perfect place for inspiration.
Zazzle LIVE is a paid service that offers 'design on demand' services. This gives you access to professional designers that can turn your images and ideas into a graphic or design.
Zazzle offers a huge range of unique products like paper plates, t-shirts, and cards for any occasion. But how easy is the design process?
Designing on Zazzle
When you design your products on Zazzle, you are creating 'content' for their product. This means that when a customer is browsing their marketplace, they will be choosing your 'content' to be printed on Zazzle's product. The customer can add your content to any product they'd like.
If you want to design clothes on Zazzle, you can choose from various styles of shirts, hoodies, leggings, socks, and shoes. All shirts and hoodies allot you a generous rectangle of space in the centre of the garment. Other products, like paper or single-layer fabrics, give you the option to print your designs all over on one side.
In Zazzle's design interface, you'll find numerous icons, shapes, and text for you to use to create your custom design. You can also upload images and add fun filters to them! In the bottom righthand corner, you'll see a preview of your final product.
Making Money on Zazzle
Let's get into the profit model on Zazzle. Zazzle has royalty rates from 5% to 99% for their products. This is best explained in an example, like leggings, which sell for £58.45.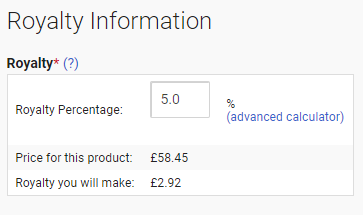 If you select a 5% royalty rate, your leggings sell for £58.45 and you make a £2.92 profit.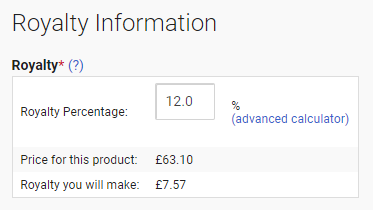 Selecting the recommended royalty rate of 12%, your leggings will sell for £63.10 and you make a £7.57 profit.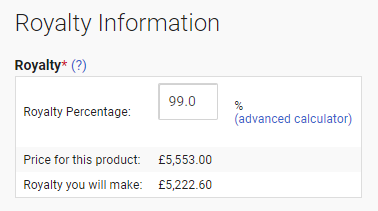 If you wanted to go all out, you could select a 99% royalty rate, so that your leggings sell for £5553.00 and you make a profit of £5222.60. Though we probably wouldn't recommend this if you're looking for a good frequency of sales…
Profits may vary at times due to several reasons:
"The final earned royalty will be based on the purchase price which may differ due to discounts, referral fees and product options chosen by the customer at the time of the purchase."
So the example above is approximate, assuming the product hasn't been discounted or changed.
Becoming a Zazzle Designer
Anyone can sign up to be a Zazzle Designer and post a product for sale in minutes. Once you start selling, your products are integrated into the Zazzle marketplace amongst thousands of others. The marketplace provides customers with a retail experience with an affinity for logo tees, wedding invitations, and stationery for special occasions.
Zazzle stores have a social media format where you can gain followers and chat in forums. They also include a 'zRank' – an optimisation score for your Zazzle store. The purpose of zRank is 'providing you with more transparency into ways you can improve and grow your earnings.' There are 3 major elements:
1. Your store
This element focuses on how good your store looks. There's a list of things you need to complete for your store to be fully finished and optimised. Additionally, you must organise your store and its products to highlight your best sellers, your brand and yourself as a designer.
2. Promoting and sales
This element is all about getting the word out and how that factors into sales. Is your store linked to your social media and blog? How many people are viewing your products? How many people add your items to their basket, and as a result proceed to checkout? The more sales you get, the higher your zRank.
3. Quality (over quantity)
This element reviews the content of your store: Products, content, customisation, and reviews. Zazzle ranks your design quality, writing, store appearance and customer feedback.
The zRank algorithm considers all these elements to show you how well optimised your store is for the platform. The zRank is not, however, factored into search results and does not indicate your revenue. That being said, the higher your zRank is, the more likely your product is to show up for customers, according to the Zazzle website.
Alternatives to Zazzle
While Zazzle might be the first go-to for print on demand services, it's not the only contender out there. If you're a little more experienced with designing or want to transform your graphics or fine art into sellable products, Contrado may be a better fit.
What is Contrado?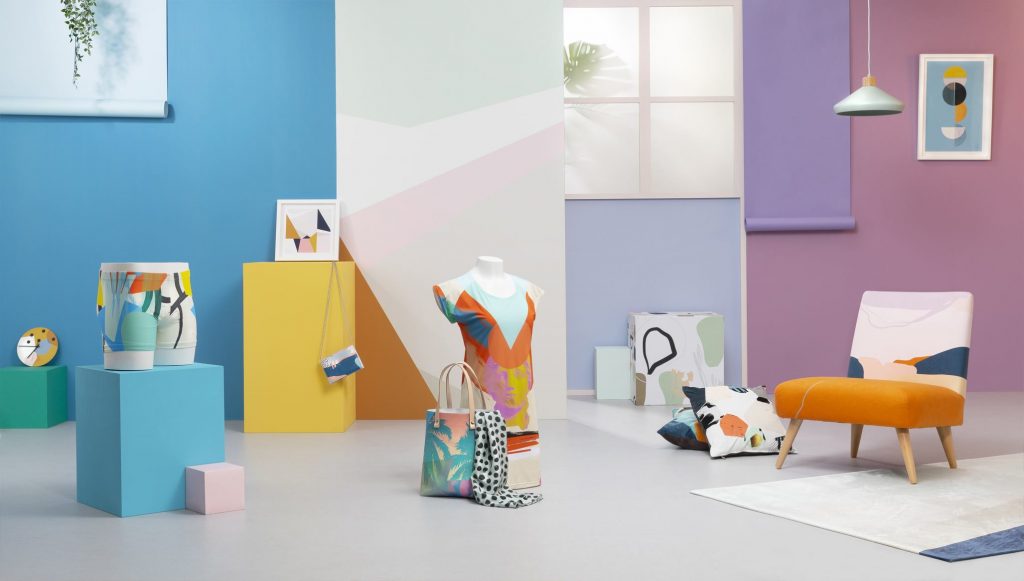 Contrado is so much more than simply another print-on-demand company. We're an online marketplace and community for fashion designers, digital artists, painters, illustrators and more. We offer a high-quality range of 450+ products that you can design every inch of.
You can design your own clothing, homeware, stationery, fabric, leather, and more. Add your style to t-shirts, phone cases, pillows, canvases, scarves, and cosy blankets, all printed, cut and sewn by us. Looking for something more out of the ordinary? Then try designing our high waisted leggings, kimonos, floor lamps, leather tote bags, bomber jackets and decorative chairs. And that's just the start.
We are committed to sustainable printing practices and ethical labour, so we make everything to order, by hand, in one facility. Our studio has no ready-made products; just blank rolls of fabric, state-of the-art technology, and people who love what they do. Not only is this quicker and cost-effective, but it's better for the environment.
Let's discuss the design process.
Designing at Contrado
For every one of our 450 products, you have complete design control down to the details. You can print all over most of our items and choose the thread colour, material, finish, and way more. You can even add your own branded label – Start designing and see for yourself!
When you enter our design interface, you'll see a clear, cohesive layout that brings your vision to life with ease. There's a bleed area for every product to ensure the best possible print. Additionally, tools like autofit, size, rotation, colours and repeat pattern let your imagination run wild. Whether you already know how you want your product to look, or want to take some time to experiment, Contrado makes it possible. When you've designed a product, our Product Mockup Generator will replicate your design on hundreds more for you to add to your store.
And don't worry, we didn't forget about your customers! All of our clothes come in XS – 2XL, with some ranging from XXS – 7XL to suit every body type. You can even let your customers choose their product options if you'd like. It's completely up to you.
So, what can you expect when you start selling?
Selling with Contrado
We're glad you asked. You have three different options for selling with Contrado:
1. Open a Contrado store
Starting your own Contrado store is quick and easy. Once you join our curated marketplace, you'll get an online storefront that can be completely customised. Design the banner, profile picture, biography, and even sort your products into collections or arrange by type.
2. Buy wholesale
If you're looking to buy and sell in bulk, we've got great wholesale discounts. Our wholesalers benefit from a tiered system where the more you buy, the higher the discount. Find more details in our Wholesale Guide and sign up here.
3. Drop-shipping with Shopify
Planning to sell with Shopify? Download the Contrado app and add products to your store in the blink of an eye. Start dropshipping here and watch our tutorial for more information.
Making Money with Contrado
So, joining Contrado has its perks, but do you actually make any money? The short version is yes. The long version explains how:
Let's say you open a Contrado store and post your leggings for sale. Contrado Creatives make anywhere from 20-60% of the product's base price. Our sliding scale automatically calculates your product's retail price and your profit:

If you keep your leggings at their base price of £34.00, you will make an estimated £5.67 in profit.

Mark up your leggings to £48.00, and you will make an estimated £15 in profit.

If you mark up your leggings to the maximum amount of £102.00, you will make an estimated £51.00 in profit.
Using the £48 example, you make 40% of the product's base price resulting in £15 in your pocket. How cool is that?
How does Contrado pay you?
If you're running a Contrado store, you get paid via PayPal. After your product is successfully delivered to your customer, you will receive payment within 2 weeks.
We have no pay cycles, thresholds, or hidden fees. Combine that with our average 2-day turnaround and quick international delivery, and you'll have cash in your pocket in no time. No waiting, no BS, just simple, straightforward selling.
If you're a dropshipper, your customer pays you directly, and then you pay us to fulfil the order. Dropshippers and wholesalers benefit from wholesale discounts, so even if you sell products at their base price, you'll still make 20-40% of the retail price. Find all the details in our simple Dropshipping Guide.
So what's the conclusion?
Well, both Zazzle and Contrado are fantastic print-on-demand companies with bustling marketplaces. If you're a designer who's ready to take their business to the next level, Contrado is definitely the place for you.
So why wait? Become a #ContradoCreative today!