Did you know that we have a brand-new designer platform at Contrado?
Want to inject your wardrobe or home with the freshest designs from the most noteworthy designers and artists around? Contrado Creatives and their designer stores are just what you are looking for.

Billie Jacobina's vibrant designs are something to watch out for
New design talent
Contrado are working with creatives from all areas of the design world. These designers are making their own stores at Contrado, featuring their artwork on our unique, handmade customised products. As a result, designer collections are affordable and always London made
One of our newest Contrado Creative recruits is the extremely talented Billie Jacobina, who has just shown her incredible new Autumn/Winter 2017 collection at London Fashion Week.

Textures, prints and accessories create an eye-catching collection
Meet Billie Jacobina
Bille is a recent graduate from UCA Rochester, where she studied Fashion Textiles Print. Her collection was selected to be shown at the prestigious Graduate Fashion Week in 2016.
Billie has already had amazing success as an inspirational, eclectic, and bold fashion designer. She won the British Council GFW Residency Award, has shown at Jakarta Fashion Week, and won Fashion Scout's "Ones to Watch" award for her graduate S/S17 collection.

Mermaids and under the sea themes play a big role in the collection
Bold and Sassy
When looking at Billie's work, one word comes to mind; "WOW!" From her use of bold and punchy colours, to the fusion of textiles, prints and patterns, Billie's work demands attention. Her Spring/Summer collection, C-LYF is inspired by Billie's dream to be a mermaid (who doesn't dream for that?!) and her love of Moroccan textiles.
These influences, mixed with her sea life inspiration (she grew up by the sea) and Alice In Wonderland, create a world where a lost little girl comes across a magical and futuristic underwater world.
Her A/W17 collection is heavily influenced by her 3 months living in Indonesia. Exploring Jakarta, Baduy, Sumba and Bali, the surroundings of temples, culture, and colour became her muse, as did the traditional dress and patterns of the areas. Billie was able to make traditional crafting techniques utterly contemporary, making her visions and inspirations come alive in her collections.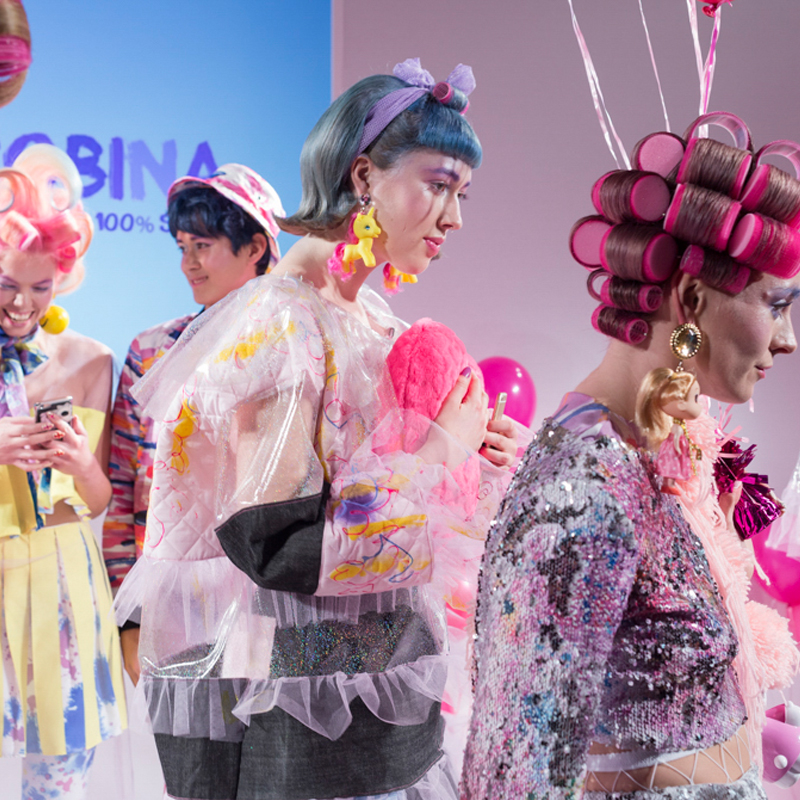 Billie Jacobina and Contrado
We are so excited that Billie has joined our designer platform as a Contrado Creative. Her Contrado store is an explosion of colour and print, with her eye-catching designs on various handmade products, including bomber jackets, baseball caps, leggings, swimsuits and more.
However you look at it, Billie's world is dreamy, vibrant and full of personality, which is sure to brighten up your day and make you smile. Putting the fun into fashion, if you love standing out from the crowd and showing a bit of sass, then you need Billie's designs in your wardrobe!
Photo credit: Charlie Burgio