You may have been an artist for some time now and wonder how to start an art business. Perhaps you want to start making money from the thing you love to do. If this sounds like you, then we might just have the perfect solution. We have curated collections so we are confident that we only offer the highest-quality within our marketplace. We take pride in our products, our printing and our methods. This means our shoppers are offered only the greatest products and designs. This also ensures that your talent is surrounded only by work of the utmost quality and is not being diluted.
How to start an art business
The classic route
The traditional route when working out how to start an art business is to start small. Set up a pop-up event, put on an exhibition in a gallery, maybe even set up shop at craft fairs or markets. However, there are some disadvantages to doing things this way. Firstly, and perhaps most obviously, it takes time, quite a lot of time, and it can be difficult to drum up enough momentum to make these events seem worthwhile, especially in the early days, where people don't know your name or haven't seen your work before. Perhaps less obviously, your pieces are commonly only displayed on one medium. This is most commonly canvas, but could also include paper, papyrus, bark papers, leather, fabric or wood.
The Contrado route
By opening a store with Contrado your pieces will be displayed in our curated collection. This allows us to be confident that our offering to our shoppers is of the highest quality and design. It also ensures that your talent is surrounded only by work of the utmost quality and is not being diluted. With over 200 different products to choose from, including clothing, homeware and fabrics, you can win over the hearts not only of people who are interested in art but also those who have a keen interest in clothing, fashion, interior design and so much more.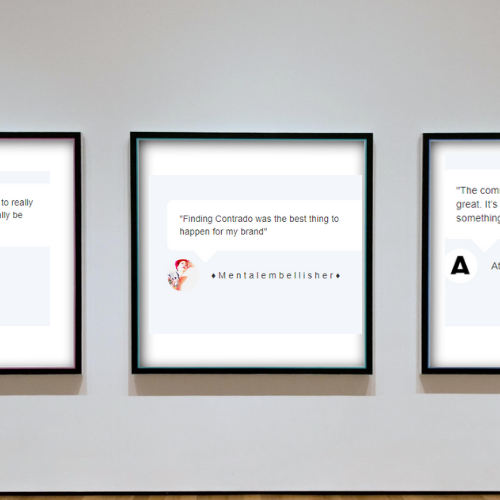 How to start an art business online
Why limit yourself to selling your art on a canvas at a market? Start your art business online, with one of the easiest-to-use art selling websites. Sell artwork in frames, on tablecloths, on a handbag or a beanbag, a clock or a cushion, the possibilities are endless. We have made it as easy as possible to start and art business with Contrado.
Choose your product
This one is nice and simple, you choose the product that you would like to display your art on. You might opt to put each design on the product that it is most suited for, you may decide to offer a selection of products with each individual design on. The choice is yours entirely.
Create your design
Upload your design to our design interface and position it upon the product with a simple drag and drop motion. Our design tool updates in real time, which means you can see how each individual change will affect the overall look of your product. You can design each part of your product separately, and what's more, as the artist you will retain 100% of the copyright of your designs.
Add the product to your store
Once you've completed your design and you're happy with it, you can add it to your store. Easy to set up, the store platform allows you to organise your store into collections. You may choose, for example, to have a collection of rugs, featuring all your different designs for rugs, or you might prefer to organise each collection by the piece of art that you've used. You get full flexibility over that. You also have the opportunity to write some copy about your product, and give it a title, as well as set the price, and which options your customers can change.
How we kickstart your art business
Once you have added your product to your store, we will also display it using the 'Shop Artists Designs' button on each of our individual product pages, to increase your visibility. When orders start coming through from your store, we take it from there.
Handmade to order
We feel that the quality is just as important as the design. That's why we print all of your designs onto the products using modern, top-of-the-range digital printing techniques. This deep infusion method penetrates the inks deep into the fibres of the material, which gives a permanent, high-definition, full-colour print. No peeling away, scratching off, or fading. Everything is cut, sewn, packed and shipped directly from our facility in North West London, so you don't have to store everything in your home or office. Enjoy the ease of drop ship vending.
When you start your business with Contrado
You earn at least 20% commission from each sale that is made. The exact amount is based on the price that you set when you add the product to your store. We pay you weekly, using the details that you provide us, and we make sure that we do so within 14 days of the delivery of the product. It really is as simple as that. You don't have to worry about calculating shipping costs or make sure you have a never-ending supply of packing tape and boxes and bags.
Selling outside of art selling websites
We know that when you start an art business online, that doesn't mean that it's the only place you want a presence. That's why should you want to take your work to a craft fair, market or stall, we have you covered there too. Enjoy up to a 40% wholesale discount on any of the products you have designed, and create a stock holding to take with you for your next event.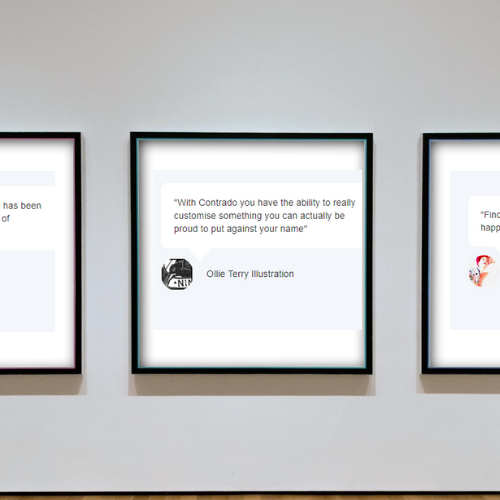 How to start your art business
So, if this sounds like the best way for you to start your art business, fill out our simple form, and join one of the fastest growing art selling websites, that allows you to create a variety of products to suit you and your work.