It can be highly profound to realise that everything we have is owed to the planet. Your mobile phone, the internet, the clothes you are wearing, the food you have eaten, the car you use, the electricity that lights your home, in fact, there's nothing that has not been originally sourced from the planet. After taking so much, it's important we take steps to give back, or not take too much. So, why are sustainable fabrics so important?
Fashion contributes to an estimated 92 million tons of textile waste a year. That's the equivalent weight of 9,200 Eiffel Towers, or 7,200,000 double decker buses, yep that's seven MILLION. With so much waste each year, it's important we do what we can to get that number much much lower.
So what can we do?
One way to reduce waste is to use second-hand clothing apps or charity shops to source preloved clothes. However, if you're looking for something specific, or have a beautiful pattern that you can't quite get out of your head, why not try make your own clothing? Rather than the cost and wastage of fast fashion, making your own outfits is a great way to be more eco-friendly. Plus, anything you make yourself is more likely to last longer, as it will have additional sentimental value.
So, while making your own soft furnishings or clothing is a step in the right direction, why not make it even better by using only sustainable fabrics? Many fashion houses around the world are turning to more natural and sustainable fabric options, and even the high streets are moving towards more sustainable fashion and furnishings.
But which fabrics class as sustainable fabrics? We've created this quick list of 4 sustainable fabric types to help you pick the right materials for your brand-new unique wardrobe.
At Contrado, we have a series of sustainable fabrics for you to choose from that we can then print your designs directly onto.
<image of fabrics/clothing related to eco-friendly or recycling>
Sustainable Fabrics: Organic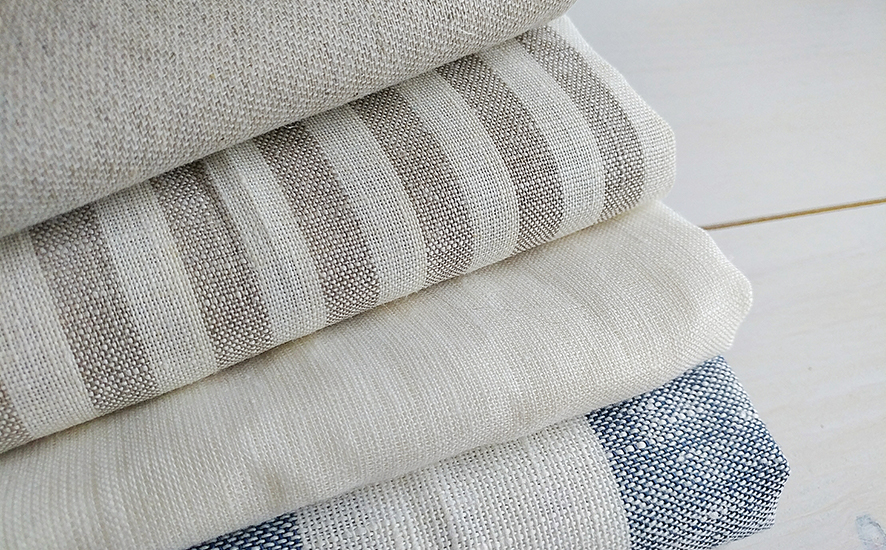 Organic fabric and textiles are made using crops that are both grown and harvested without chemicals, herbicides or pesticides. Only natural fertilisers are used and soils are carefully monitored during the process to avoid contamination.
Organic materials have a whole number of benefits which make them great for making eco fashion garments and creating your own clothing at home.
The Benefits of Organic Fabrics
Hypoallergenic and safe for sensitive skin
Soft & breathable
Eco-Friendly & Sustainable
Cheaper to produce
Prevents soil erosion
Naturally strong and durable
At Contrado, we offer three variations of organic cotton for you to choose from: Cotton canvas, poplin or half-panama. Each is opaque and non-stretch; perfect for tea towels, shirts and more. Absolutely no chemicals have been used during the farming or weaving process. The organic cottons are not bleached or dyed either, so come with a natural cream hue.
Sustainable Fabrics: Natural
If a fabric is labelled 'natural', this simply means it is made from fibres that derive from either plants or animals. As they come from natural sources, these fabrics are typically sustainable as well as bio-degradable. This is a huge advantage for the environment and reduces the rise of synthetic fast fashion being sent to landfill.
The Benefits of Natural Fabrics
Strong & Durable
Hypoallergic and anti-bacterial
Breathable and versatile
Bio-degradable & sustainable
Natural fabrics perfect for sustainable fashion include natural silks, organic linens and even bull denim.
Linen is a great natural fabric as its impact on the environment is so low – farmers can grow flax (the fibre used for linen) in soil that doesn't have to be particularly fertile. Linen can be blended with other fibres too and doesn't require any pesticides or much water to grow.
Our natural cotton linen blend is perfect for creating your own sustainable fashion at home. It's a crisp and breathable fabric which can be used for anything from napkins to shirts, trousers and dresses.
Sustainable Fabrics: Recycled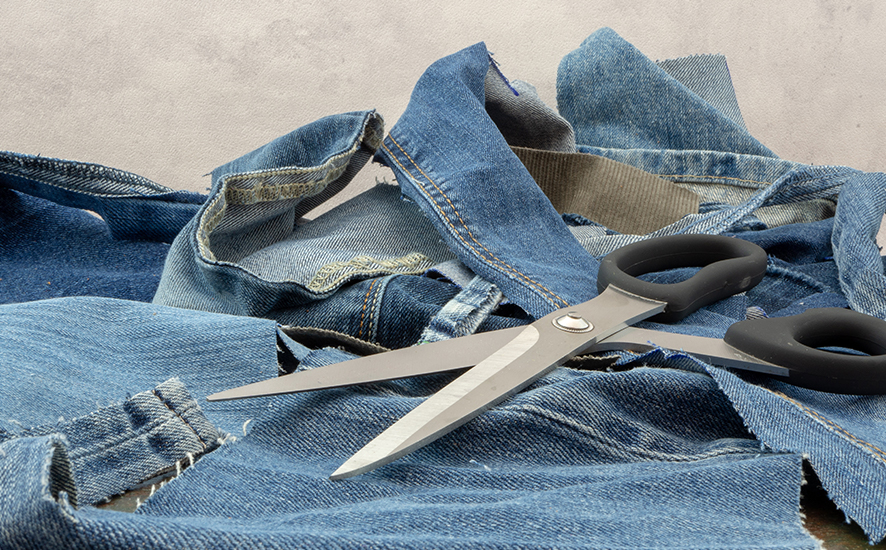 Using recycled materials – even if those materials weren't originally eco-friendly – is another way to create sustainable fabrics.
Whether you contact local tailors or fashion companies to request their fabric scraps, or re-use your old clothing to create new pieces, there's always something that can be reused and recycled into something cool and new.
You'll also find that fabrics made from recycled products are becoming more and more popular. We've all seen the 'I used to be a paper cup' pens and journals, but now you can get fabrics made from leftover food scraps and plastics.
At Contrado, we can print your designs onto our very own recycled polyester, which is made from 100% recycled materials. The Gaia Eco Woven Fabric is a strong, heavy material that's ideal for making soft furnishings for around the house.
The Benefits of Recycled Fabrics
Reuses fabric to cut down waste
Reduces greenhouse gases
Creative opportunity
Strong and durable
Sustainable Fabrics: Hemp
Hemp is becoming hugely popular at the moment. It's been used in building materials, cosmetics and even food. But hemp has actually been harvested and grown for fabric for hundreds of years.
It can be grown all over the world, doesn't need a lot of water, and even naturally fertilises the soil around it for other crops. Hemp is great for all-weather clothing; keeping you warm in the winter and cool in the sun. It's no surprise why it is considered the most sustainable fabric out there.
The Benefits of Hemp
Eco-Friendly & Sustainable
Grows in different eco-systems
Naturally fertilises soil
Protects your skin by naturally filtering UV light.
These are just 4 fabric types to look out for when thinking about sustainable fabrics. If you're ready to try your hand at making your own clothing from sustainable fabrics, why not order one of our swatch packs to get started? This will give you a better idea of which materials are the easiest to work with and which will have the style and feel you're looking for.