From surface pattern designers and tattoo artists, to surrealists and textile designers, our crew of Contrado Creatives is growing every day. 
When we set out to create our marketplace, we had no idea that we would be inundated with such an incredible array of talented creatives. The marketplace was originally developed to give independent artists a global platform to showcase their work. Once artists have submitted their portfolio for consideration, they are given access to our variety of services and exclusive handmade products. They receive customer service, marketing, and business support. Our collection of products range from homeware and furnishings, to fashion and accessories. Everything is made in-house by a team of skilled technicians and seamstresses.
Artists have the ability to choose whatever products they want, and upload their designs onto them. This allows them to create entire collections with their work. Not only does this mean they are able to make a store and start selling to a global audience, but they are also able to create their own brand.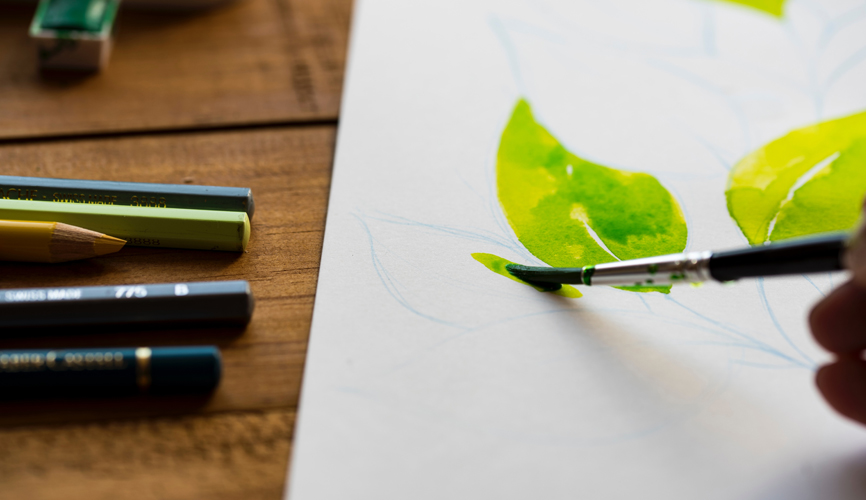 Meet the next batch of Contrado Creatives
Over the course of this series, we have introduced you to a selection of our artists. In this post, you will meet 6 more incredible creators. From fine artists to graphic designers, this lot has something for everyone.
Dustless Soul Creations
If you are looking for something that is unusual, unconventional, and distinct, then Dustless Soul Creations is for you. Created by artist Kelly Blake, this vibrant collection is undeniably quirky and full of life, colour and movement.
Kelly has been working and studying in the artistic field for most of her life. From a foundation degree in graphics and illustration, to a Masters in cinematography and post production, she has experimented consistently in all areas of art. Her collection for Contrado speaks to those who have an appreciation of edgy and vibrant aesthetics.
Kelly's designs are created using a combination of hand-drawn and digital methods. Once an idea is conceived, Kelly draws the design onto a sheet of cartridge paper using pen and ink. She then adds all of the details. The black and white design is scanned onto a computer at an ultra-high resolution, where colour and finishing touches are added. This abstract method gives life to Kelly's creations, and always makes them exciting, bold and charismatic.

Tracey Jane Cooper Designs
Embrace a joyous world full of colourful and contemporary floral and landscape paintings, with Tracey Jane Cooper Designs. Tracey Jane is a self taught artist, who creates her beautiful work from her very own garden studio. Looking at the bright and optimistic acrylic paintings, you cannot help but be filled with a calm serenity.
Inspired by all forms of nature and natural beauty, Tracey Jane truly paints her feelings and emotions into her works. Although she is not shy to experiment in her style, Tracey Jane finds that she always comes back to the form of art that works for her. Most of her work is created with acrylic paint on canvas and finished with a clear coat of spray varnish. She works quickly and intuitively to build up the horizon and sky. Loose brush strokes are used to evoke a sense of movement and depth. The floral designs are created using deliberate splashes and splatters. The overall effect is one of purity, beauty and calm.
These wonderful works complement our products perfectly. Scarves, bags and accessories are given a bespoke and bright finish, that would add distinction and pleasure to anyone's wardrobe.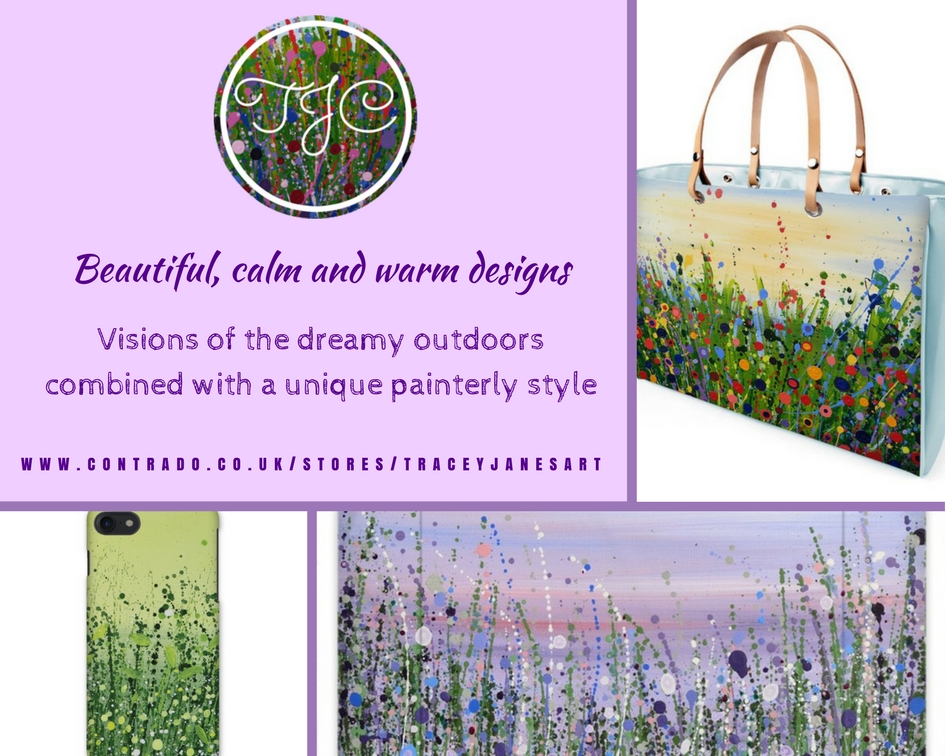 Irene Silvino
Having graduated in multimedia communication and visual arts at the University of Florence in Italy, artist Irene Silvino moved to London. Here, she studied at Central Saint Martin's to specialise in drawing, visual arts and graphic design. Irene moved from working as a graphic designer at a software company, to working as an illustrator in her own right.
Her work is a dream. High-contrast and vivid colours, with subject matter dominated by nature and wildlife. The overall effect is quirky, cute and fun. Her illustrations are made using ink pen, watercolour, pencils and digital touch-ups, and she strives to incorporate a true Mediterranean character. Her pattern designs are created by taking photos of the great outdoors. These give Irene the inspiration to create drawings and watercolours on paper. Once this stage is complete, the drawings are scanned and digitally processed and manipulated using Photoshop, where the final designs are completed.
Irene's work is full of passion and joy, and will always leave you with a smile on your face.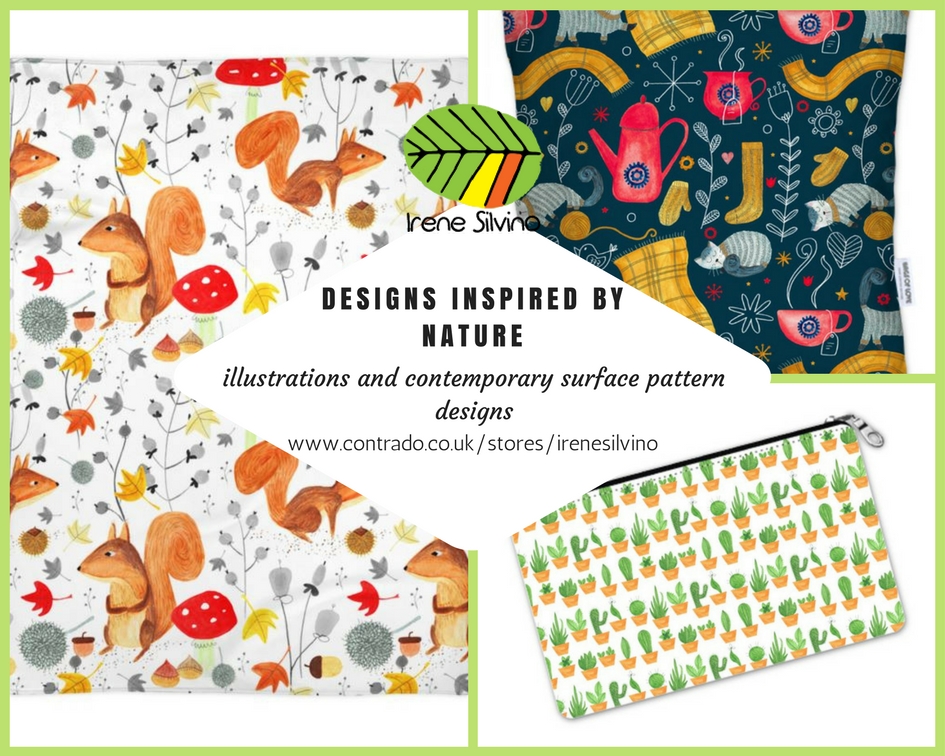 Joyce Allen Textiles
French born textile designer Joyce Allen, is a new and exciting Contrado Creative. Having studied textile design and innovation at Loughborough University, as well as completing summer courses at Central Saint Martin's, this designer loves creating work which is full of colour and eclectic compositions, that are both on trend and yet utterly timeless.
Joyce's subject themes range from the light hearted, to politics, and identity to sexuality. Her most recent inspiration comes from mid 20th century modernist architecture, specifically from California. Her style is always bold and sharp with a graphic and geometric execution.
Specialising in digital integrated practices within textiles, Joyce uses digital software and processes in her work. This narrows down to Photoshop, digital printing, digital embroidery, jacquard and laser cutting. Her creations, however, always start with research, sketches, and painting, before she decides how to include the digital aspect.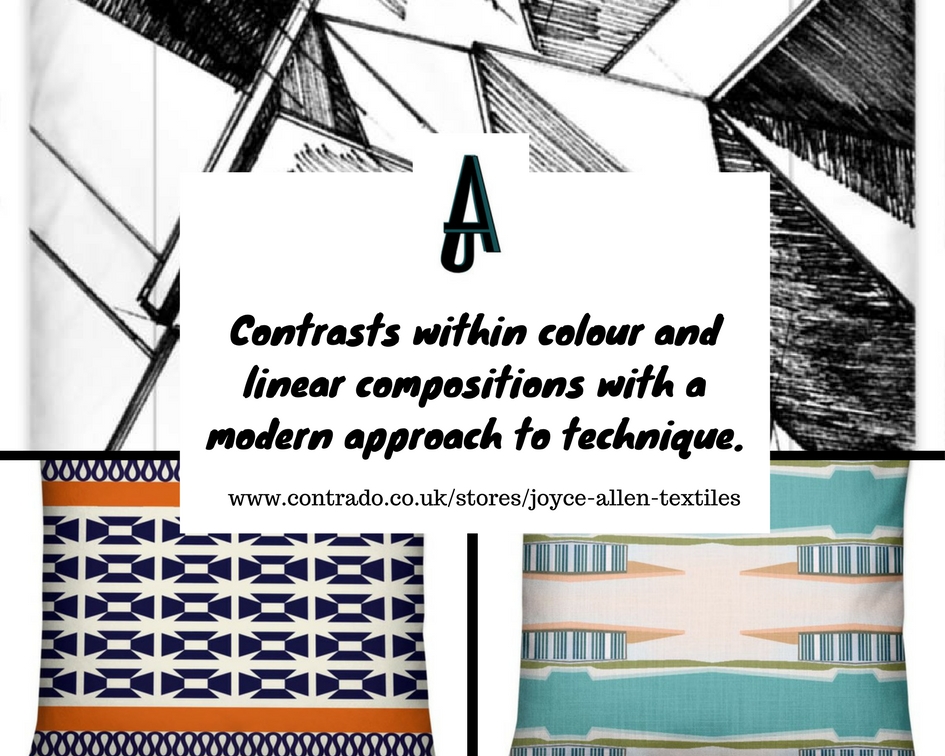 Millettia
The stunning and unique work of artist Catherine Paquette, have built her brand, Millettia. Intricate and vibrant abstract creations are merged to create vivid surface pattern designs, that will leave you wanting more.
Colourful abstract patterns and floral prints make up a large portion of Millettia, and they are the perfect way to add colour and style to your home. Catherine loves mixing fine line drawings and using punchy colours to bring them to life. Her style has progressed over the years, and Catherine now finds herself creating exciting abstract pieces, that explode with colour and life. Inspired by nature and the geometric patterns found in architecture, you can truly see Catherine's love for her craft in her work.
Her process begins in 2 ways; Catherine takes photos of little elements that spark her imagination. These images are then translated by transferring them in a collage style onto lino, and then hand printing them onto paper in various colours. The second process involves using mixed media and fine line drawings based on the photos. Both methods are finished by scanning them into the computer and manipulated to created the final design.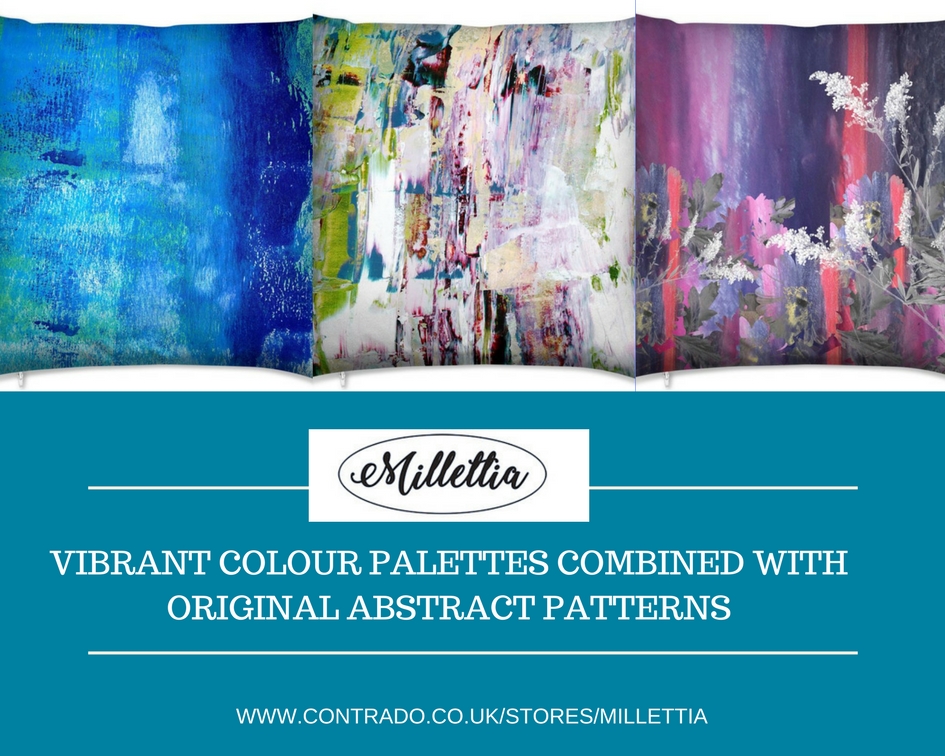 Keangelidesart
Artist Katherine Angelides was born in the UK and moved to Tanzania in East Africa when she was 5. Her creativity started at a young age, as she watched her mother and brothers paint and draw. Katherine began painting in 2002, where her love of art grew into something more serious. She started selling her art from a young age in East Africa and Congo.
Now based back in the UK, Katherine's artistic journey has continued to build, and her incredible creations can now be found on her fashion and homeware collection at Contrado. Her art is evocative and emotive; expressing her feelings through unique abstract designs. The fusion of African and modern abstract art gives her creations an infectious energy. Katherine's artistic progression has ranged from purely African inspired work, to a more emotive and personal aesthetic. However, the African roots are still very apparent in her designs, and this gives them even more vibrancy and power.
Katherine's designs work so beautifully on clothing, as fashion is a fantastic way to express yourself and show the world who YOU are.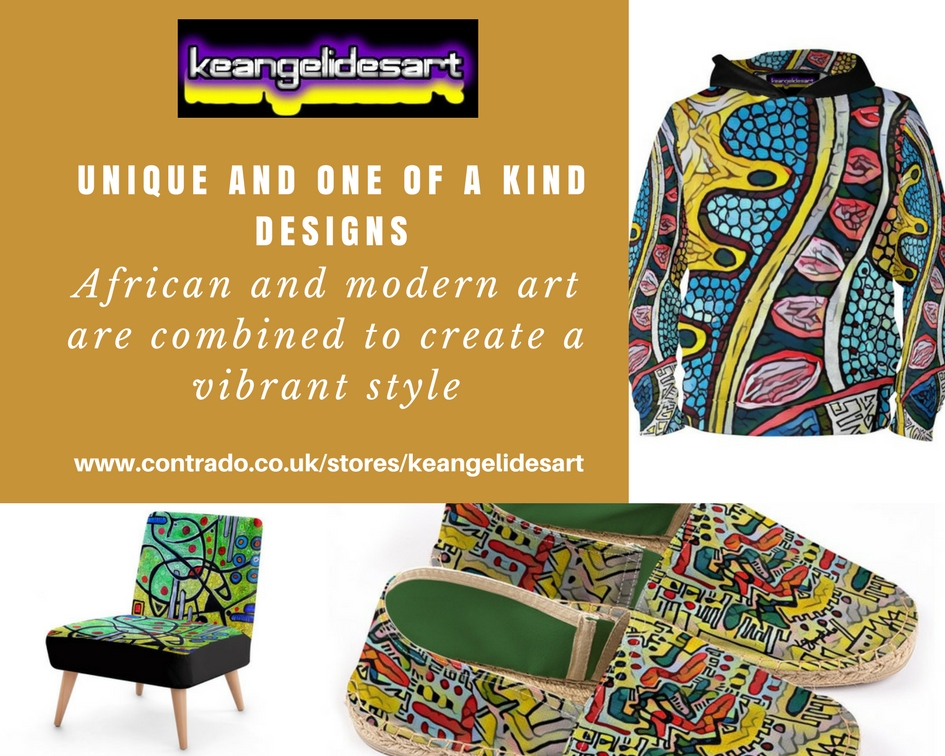 You've met the latest batch of Contrado Creatives, and now it is time to see what they can do! Click on the button below to discover their amazing online stores, and find even more talented artists. With such a wealth of styles and products available, you are sure to find something perfect to suit your personal taste. Or how about joining our crew of Contrado Creatives? Click here to submit your work. Good luck!