Custom self-adhesive wallpaper
VAT included
See how our pricing works
Three paper types to choose
Available in any size
Full colour high quality ink
Easy and quick to hang
Sample swatch available
Solvent free low odour print
Quick worldwide delivery
Sustainably made in the UK
Ships in 1 - 2 days
.
UK delivery from £5.99
Delivery options
We also offer
Wholesale and student discount from no minimum to bulk orders
View discounts
Need more help? Check out our wallpaper calculator to find out how many rolls you'll need.
Product Description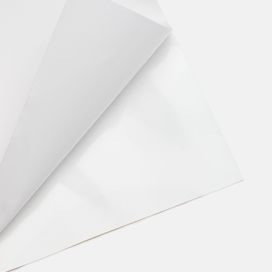 Whether you want to transform a feature wall or an entire room, our custom self-adhesive wallpaper offers an original way to decorate your space. Our paper is removable, can be mounted onto any surface and won't leave a residue behind, making it the perfect renter-friendly choice. The custom peel-and-stick wallpaper is fire rated and pre-coated with adhesive for easy application. Create your own photo wallpaper or breathe some life into your space with an original repeat pattern. The ink used to print your design is naturally opaque and UV and fade-resistant for long wear.
Care instructions
Surface wipe only. Clean gently by hand with mild soapy damp cloth.
How it works
Upload your design
We automatically apply your design to the product you selected
Make it perfect
Use our smart tools to get it exactly right and select the finishing options
Preview & checkout
Confirm your designs with our 3D previews and checkout with confidence
1-2 Days Production
Sit back and relax. Your product is on its way!
How our pricing works
Our pricing is based on the quantity and dimensions of the products you order. The more you order, the better price you'll get. We also offer lower pricing for larger dimensions, students, and wholesalers.
We offer discounts
We offer discounts on all our products, including bulk, quantity and student discounts. Enjoy great deals whether you're a small business, designer, or student.
Volume discount
Wholesale
Students
Based on Quantity
Up to 44%
Up to 20%

Discounts

Discount available. Price by selecting dimensions & quantity.

Find out more
Find out more
Custom self-adhesive wallpaper
VAT included
See how our pricing works
Three paper types to choose
Available in any size
Full colour high quality ink
Easy and quick to hang
Sample swatch available
Solvent free low odour print
Quick worldwide delivery
Sustainably made in the UK
Ships in 1 - 2 days
.
UK delivery from £5.99
Delivery options
We also offer
Wholesale and student discount from no minimum to bulk orders
View discounts
Need more help? Check out our wallpaper calculator to find out how many rolls you'll need.
Help
More details
ABOUT CUSTOM PEEL-AND-STICK WALLPAPER
With no paste needed, our wallpaper is so effortless to work with. Not only does the peel and stick application allow for smoother placement, but the paper can be repositioned multiple times. Our custom peel-and-stick wallpaper is also scratch and tear-resistant and feels amazing to touch. We use the latest cutting technology to perfectly align the drops of wallpaper with your print and make installation a breeze. Simply use our wallpaper calculator to find out how many rolls of 62cm-wide custom self-adhesive wallpaper you need to fit your chosen wall.
Our ink is Greenguard Gold-certified, which means it emits low chemical emissions. We work hard at Contrado to make sure that all our custom self-adhesive wallpaper is non-toxic and printed on demand in London, providing a safe product for your home.
AT A GLANCE
Photo or repeat pattern wallpaper
Printed on demand
Peel and stick application
Easily removable
Fire rated and Greenguard Gold-certified
Optional wallpaper sample (62 x 30cm)
WALLPAPER SIZE
Custom dimensions (any size you want)
Roll width: 62 cm
HOW YOUR CUSTOM SELF-ADHESIVE WALLPAPER IS MADE
When you design your own peel-and-stick wallpaper, your photo or design is digitally printed on high-quality opaque paper. The inks used to print your design are Greenguard Gold-certified and amazingly fade-resistant. The paper itself comes with an equally high-quality adhesive that doesn't damage paint or walls when removed or leave any residue. Our custom adhesive wallpaper is 350gsm thick and tear-resistant with a smooth texture. Simply peel the backing off the paper, press the sticky side onto your wall and smooth to apply.
DESIGN TIPS
Whether you're looking to design a floral feature wall or transform every room in your house with animal motifs, our design interface makes it easy to turn your designs into the perfect wallpaper. Choose from our photo and repeat pattern wallpaper options and design your own removable wallpaper in your personal style. If you have a contemporary style home, create a retro print like daisy chains, mandalas or repeating stripes. For more traditional homes, why not print your own removable wallpaper in a laidback palette?



DOWNLOAD OUR FULL HANGING INSTRUCTIONS HERE

DOWNLOAD OUR FIRE RATING CERTIFICATION HERE
HOW DOES THIS PRODUCT ENHANCE MY...
Home
Ideal for anyone looking to decorate a statement wall or entire room. You could create your own peel-and-stick wallpaper stretching along your hallway in a bright jungle or floral design. Our custom self-adhesive wallpaper is just as great for upgrading rooms, temporary spaces, bookcases and an array of craft projects.
Business
Our custom adhesive wallpaper is the perfect material for decorating the walls of your restaurant or cafe. The paper is of gorgeous quality and simple to install and replace when you want to refresh the look of your walls for the new season. Print your own peel-and-stick wallpaper in a design that effortlessly sets the mood and atmosphere for customers.
Design Brand
Create a collection of gorgeous wallpaper designs in your store to inspire customers to brighten their interiors. For example, you could create your own removable wallpaper in an inspiring floral design to attract people whose homes are in need of a spring clean.
Print guidelines & finishing
Print Guideline
What's the best resolution to print in?

We print at 200dpi, which is a good combination of quality and file weight. Ideally, your image should be scaled to 100% at 200dpi, this means that no resizing of your file occurs stopping any interpolation.

Should I save my file as a TIFF or JPEG?

For multi-coloured or very detailed files we recommend using a tiff format, but they must be flattened. For simple colours and low detail files, a jpeg is fine.

Which colour model should I choose? RGB or CMYK?

We advise providing images in the RGB colour space. Specifically using the sRGB image profile, to achieve best colour results. What does this mean? In your editing software choose RGB as the working space, and assign the image profile as sRGB (full name sRGB IEC61966-2.1)

What does GSM mean?

Grams per Square Meter (GSM) is an international standard for measuring the weight of paper or fabric. GSM uses the weight of a square meter (1000 x 1000mm) as an indication of the weight and thickness of a given fabric. We class 20-100gsm as light (summer fabrics, gauzes and fine silks), 101-249 gsm as medium (most clothing fabrics) and 250+ gsm as heavy (upholstery fabrics, and other specialist fabrics).

What are the bleed areas?

When designing your product, it's best to make sure that your image is slightly larger than needed. In printing, the extra printed image is referred to as a "Bleed Area" or margin, and it is removed from the finished piece. A bleed area acts as a buffer for slight inconsistencies in the manufacturing process. however, it's important to fill your bleed areas completely, or you may end up with white, unprinted strips along the edge of your finished product.
Do you print on garments a customer supplies?

Unfortunately not. All our garments are printed on flat fabric and sewn into finished products, which gives a better, finished result and all-over print. We test meticulously so that we know what gets the best results on our fabrics, and our facilities cater perfectly to them. We do however print sublimation paper to order, so if you have access to a heat press you can press your fabrics or flat garments easily.

Can you Align a Pattern or design across panels of a garment?

We always strive for the greatest accuracy when printing and constructing your garments. However, due to unavoidable stretch or movement of the fabric during the stitching process, we cannot guarantee perfect pattern registration across garment seams. We are generally accurate within 2-3mm, which Is close enough for most patterns but may show slight issues with detailed geometric patterns.

Can I print my own Labels?

Most of our garments now come with printable label space for you to add your own company information and branding! If you would like to sew in your own labels, we also offer Printed Fabric Labels here.

How is your fabric printing eco-friendly?

With environmental consciousness in mind, our fabrics are all printed using completely water-based inks. This means no chemicals or solvents are used. Our heat fixing procedure fixes the colours and prints, avoiding the downsides of steaming, such as excess or contaminated water returning into the waste system. We have one facility in London where we conduct all the printing, production and fulfillment.
Please note: As everything we provide is handmade to order, all measurements may vary slightly.
FAQ
Should I order a wallpaper sample first?
Yes! We always encourage ordering a 62 x 30cm wallpaper sample first. That way, you can decide which wallpaper type best fits your existing decor and carry out a quick test installation on your surface. You'll also be able to see how your design looks printed on the paper. Click on the 'start design' button to choose the wallpaper you like and add a sample to your cart.
How do I install my custom peel-and-stick wallpaper?
No glue or paste needed - simply peel the backing off the wallpaper, press the sticky side onto your wall, and smooth. Need a little help visualising? We've put together full step-by-step instructions for hanging wallpaper here.
Is my wallpaper easy to clean?
Yes, our custom peel-and-stick wallpaper is washable with mild soap and water. Simply use a damp sponge or cloth to wipe clean.