Canvas Fabric Printing
£14.50
Ready in 1 - 2 day(s).
Max Print:
Weight:
Roll Width:
Woven Canvas 500gsm

Max Print:

1.59m




Weight:

500gsm




Roll Width:

1.61m




Start Design

Woven Canvas 300gsm

Max Print:

1.59m




Weight:

300gsm




Roll Width:

1.61m




Start Design

Canvas 300 and 500gsm
There are two weights, both are plain weave, so please take a close look at the product images and choose the one just right for you.
Care instruction
For the everyday care of your new purchase, yours is a deceptively hardy material which is a bit tougher than it looks! To get the most out of your product, make sure you stick to these simple wash and care instructions and it should stay soft, colourful and happy.
Printing on Canvas 300/500gsm
These versatile and durable custom Canvas fabrics are just waiting for you to find their perfect use. Give them a try.
Surface textures
With a characteristically stiff handle, our custom Canvas fabrics have a structured drape. These canvases are both simultaneously soft on their face, and have a texture which follows their gradient, making them both tightly woven, solid surfaces. These both have matt finishes and a coarse back surface. There is slightly more relief on the surface area of the Canvas 500, due to its thicker threads.
Print detail
With a white base to both fabrics, printed colours have a bold contrast with the background. The results are very neat, well pressed lines. As you hold the fabric up to the light you will notice the opacity. The thicker and heavier the weight of the fabric, the more stiff and solid it is. The heavier weight Canvas, 500gsm, has a very low lustre on the face surface of the fabric, which is only noticeable due to the size of the threads being larger in comparison to the 300gsm. The print quality is not interrupted, just slightly textured.
Usage
This fabric lends itself well to a whole host of functions due to its diverse and durable qualities. From sails to ground cloths, artist canvas to embroidery, upholstery to cushions and wall art to variations of bags. This custom made Canvas fabric is a hardy material which you will find uses for wherever you look.
Reviews for
Reviews for Woven Canvas 300
Rated 5/5 based on 2 customer reviews
Great Job!

True colours, clear image, good quality fabric - gotta love Contrado!

Great Quality and Service

My order was received within the stated 2 days, quality was fantastic and so was the print quality
Frequently asked questions on Woven Canvas 500gsm/Woven Canvas 300gsm:
As the custom printed Canvas fabric is stiff, does this make it rough to the touch?
The Canvas material is firm but not uncomfortable. It has a strong structured feel to it at first, which softeners with use leaving a comfortable texture.To try for yourself, purchase a fabric swatch pack or try a test print sample.
What is the difference between the 300gsm and 500gsm?
The weight is different by 200gsm, but apart from that, the 300gsm has a finer tighter weave, providing a finer texture for printing on. Having said this the 500gsm still has a crisp and detailed print quality, with a slightly more obvious texture.
Is this a fabric often used for interior furnishings?
Canvas is advised for interior accessories such as wall hangings and big cushions. It can be used on furnishings, for a deckchair or footstools, however it is not the softest option for a sofa. It is suitable for garden cushions as it is very hardy so can stand up to everyday wear and tear and is suitable for machine washing.
Delivery time & Costs
Production times
We handmake your item on site, which takes on average 1-2 days. Please check individual production times which are displayed next to the item price on the product page, as this varies from product to product. In rare cases when we need to re-print an item, this may take an additional 1-2 days.
Shipping methods
After your item has been manufactured, we ship your order via your chosen method. Please add on the production time to the delivery time to calculate when your order will be with you. Select your delivery method in your basket.
We have a range of trusted shipping options:
Royal Mail 1st Class Standard (no tracking) - 1-5 working days on average (please note that this can take up to 15 working days in exceptional circumstances).
Royal Mail 1st Class Recorded (no tracking) – Usually delivered the next working day. It is not a guaranteed next day service, or a tracked service. A signature is required. (Please note that this can take up to 15 working days in exceptional circumstances).
Special Delivery – Delivered the next working day
Saturday Delivery (deliver only on Sat)
Collection from our London Office (between 4-6pm on working days only)
For international orders or large/bulky packages within the UK, we ship via DHL or Fedex services. This takes on average 2-5 working days.
You can then enjoy or resell your hand-made products with your very own designs.
You can also read more about our terms & conditions and refund policy.
Make use of our Manufacturing and Worldwide Shipping Experience
At Contrado, every product is handmade on site to ensure the highest quality. We provide a dedicated production service as well as a range of fast delivery options. For the past 14 years, we have printed and hand-made countless personalised products for a wide range of customers all over the world and many of them have become loyal customers who love not only our products but also the care, knowledge and dedication from our staff.
A speedy Special Delivery service is available where your item will delivered within one working day, after it has been manufactured.
Ready in 1 - 2 day(s).

£4.99 to ship in UK

Express shipping available
UK delivery:

£4.99

Western European:

£14

Other European:

£16

North America:

£16

Australia / Japan:

£22

Rest Of The World:

£22
You have the amazing designs, but do you have the amazing place to sell?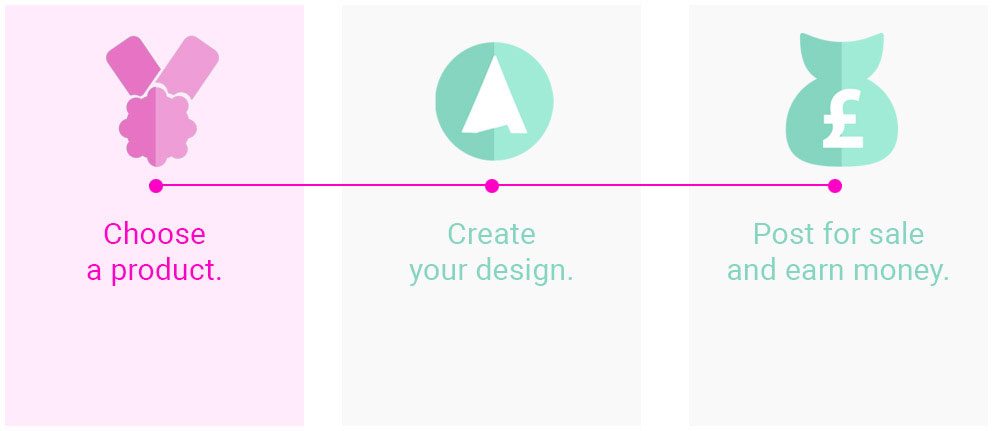 All you have to do is design what you love and we bring your creations to life. We take care of the hand crafting and manufacture, the sales and the shipping. You the designer, control the products and designs from wherever you are, from home, the office, even on the go. Meanwhile the orders start to roll in and you get commissions fast.
Print Guideline
What's the best resolution to print in?

We print at 200dpi, which is a good combination of quality and file weight. Ideally your image should be scaled to 100% at 200dpi; this means that no resizing of your file occurs, preventing any interpolation.

Should I save my file as a TIFF or JPEG?

For multi-coloured or very detailed files we recommend using a tiff format, but they must be flattened. For simple colours and low detail files, a jpeg is fine.

Which colour model should I choose? RGB or CMYK?

If each individual colour is specifically important to your design, choose CYMK as our setup will print each colour with the closest possible match within our available range. If the relationship between the colours within the image is more important choose RGB; this will reduce all colours equally to fit within our range.

Maximum dimensions

There is no limit on the length of the fabric that you can order. We have a preview design window set up to 5m max to visualise the print, but that's not a print limit. If you'd like to order more, you can increase the quantity (x2 for 10m or x 4 for 20m for e.g.) and then your orders can be as long as you'd like, with a built in automatic volume discount too. The maximum print width of each fabric can be found on the individual fabric pages or in our design interface.

Do I need to incorporate white space within my design if I want a border or some cutting space?

Yes, that might help you! Always incorporate any extra space or boarders into your purchased fabric size. We trim squarely around fabric samples and fabric prints, leaving approximately 5mm white space. Cutting neatly on the line has an additional fee.
Do you print on fabric a customer supplies?

Unfortunately not; we like to test meticulously so that we know what gets best results on our fabrics, and our facilities cater perfectly to them. We do however print sublimation paper to order, and if you have access to a heat press you can press your own fabrics easily.

What is the situation with material shrinkage?

Just like many fabric printing processes, there is the potential for shrinkage. Depending on the fabric, please expect and allow between 2-6% shrinkage which you need to plan for in your dimensions.

Can I print on both sides of the fabric?

We do not offer printing on both sides of the fabric, as a lot of our fabrics are semi-transparent. As the customer, you can consider the effect of printing on both sides one of our fabrics and contact us, and we will get back to you if it's feasible.

Can I order labels in another fabric? Will you cut them like you do with the normal fabric labels?

At the moment no, our labels are all printed on the same satin fabric. We may introduce more in the future, but for now this is the best choice. The labels are all cut the same way. You can order the fabric of your choice and make the labels yourself, but we do not cut different fabric into label format.

How is your fabric printing eco-friendly?

With environmental consciousness in mind, our fabrics are all printed using completely water-based inks. This means no chemicals or solvents are used. Our heat fixing procedure fixes the colours and prints, avoiding the downsides of steaming, such as excess or contaminated water returning into the waste system. We have one facility in London where we conduct all the printing, production and fulfillment.
Sizing For Hemming And Shrinkage
We have a full Cut & Sew service here at Contrado, and are able to hem your fabric prints for a small additional charge. We create a small one- or two-fold hem that typically uses 5 to 20mm of material, depending on the thickness of the fabric. So, for example, if you want a finished piece of fabric that measures 100 x 100cm, you will need to order a size of 101.5cm x 101.5cm to allow for the hem (on top of that please also allow for shrinkage of min 2%). The thicker the fabric, the bigger the hem will be. You can choose to have your prints hemmed with either Black or White thread. On our silk and other light woven fabrics, one hemmed edge will be straight (vertically down the roll) and the other will be slightly rippled. The hemming material allowances are as follows and you need to make your print bigger to accommodate the hem:
Light Fabrics (20-100gsm): For silks and other light fabrics, we use 6-8mm in the hem (2 fold), so overall width/height will be minus 12-16mm
Medium Fabrics (101-200gsm): For medium-weight fabrics that fray, we use 15-20mm in the hem (2 fold) so overall width/height will be minus 35-40mm
Stiff/Heavy/No-fray fabrics: we use 15-20mm in the hem (1 fold) so overall width/height will be minus 35-40mm
All of these measurements are approximate and can vary. Including with shrinkage it can mean a fairly significant difference to ordered dimensions, so please plan your print accordingly. Depending on how open the weave is, our fabric can shrink anywhere from 2% to 8% with the average being 2.5%.
How Would you Like the Edge?
We have four finishing options for your fabric order:
As it comes. We cut around your image, leaving a simply scissor cut, perhaps uneven white fabric border.
Hem with thread. We can hem your fabric with a choice of black or white thread. Please allow 1-2 days additional production time. See below for information on how hemming affects the size of your print.
Cut on the line. We will cut neatly on the edge of your image. Please be aware, when we cut along the line, we have to cut against the grain of the fabric. This is the standard procedure for fabric cutting. This means that with some fabrics, for example, Georgette and Mulmul, which have a slight wave in them, some fraying will occur. This is unavoidable, as the cut follows the grain of the textile.
All of our fabrics are cut manually by hand, with the utmost care and attention. If your fabric has a slightly uneven look on the edges, or a touch of fraying, this does not indicate a flaw in the textile. It is not always possible to achieve a perfect straight cut with certain fabrics, so please do bare this in mind when it comes to your design. If you have any queries or would like to know about our cutting methods in more detail, please get in touch and we will be more than happy to discuss them with you.
For further information about our fabrics see our FAQs.
Close
Almost there!
Canvas Fabric Printing, From £14.50
This fabric comes in different variations, please select one! If you are not sure, the first option is always our customer's favourite. You will be able to change this later on in the next step.
Close
Students discounts
Because, we're your BIGGEST fans.
Up to 40% Discount.
Start Design
1

Use the live chat and tell us
what you are making

2

Upload a photo of your student #ID
in our chat (bottom right)

3

Get your discount code